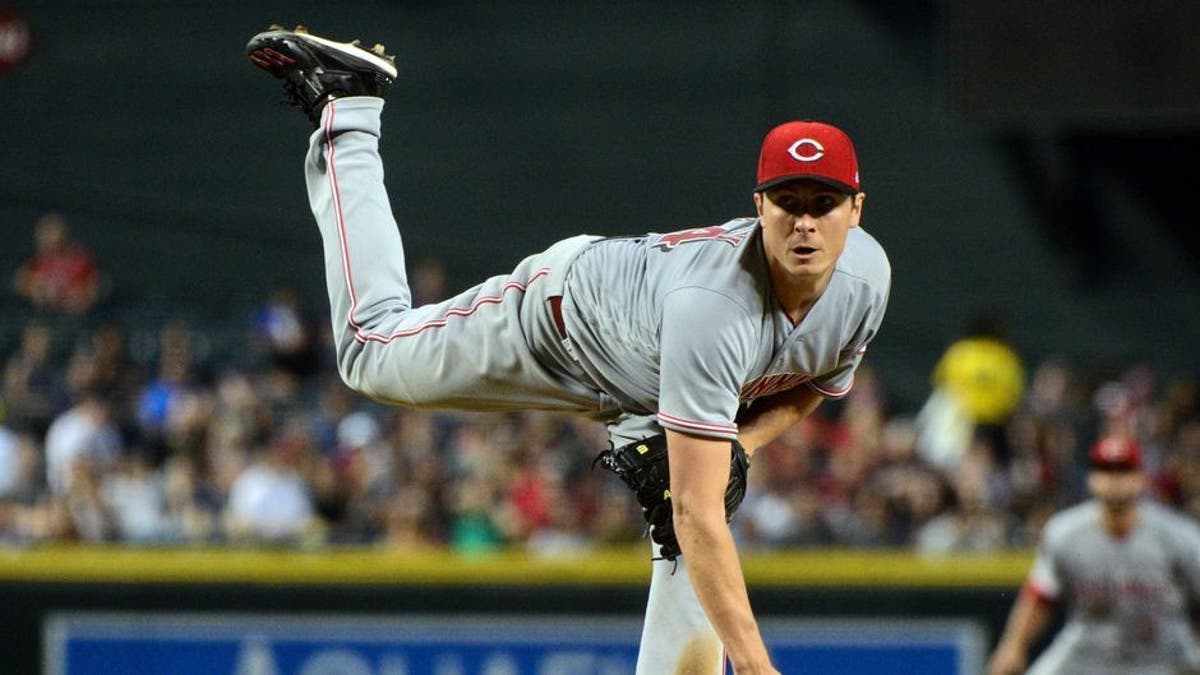 PHOENIX (AP) -- Homer Bailey went 6 2-3 strong innings, Scott Schebler doubled in the go-ahead run and the Cincinnati Reds beat Arizona 2-1 on Sunday, sending the Diamondbacks to their fifth loss in six games heading into the All-Star break.
Bailey (2-2) gave up a run on seven hits in his fourth start since returning from February surgery to remove small bone spurs from his elbow. He struck out five and walked four.
A.J. Pollock homered for Arizona, his first since a six-week stint on the disabled list with a groin injury. Patrick Corbin (6-9) allowed two runs in six innings but took the loss. The left-hander scattered seven hits and matched his season-high with nine strikeouts.
The Diamondbacks offense sputtered again, with a combined one run in its last 19 innings. Arizona was 1-for-8 with runners in scoring position and had two thrown out at the plate.
Raisel Iglesias pitched a perfect ninth for his 16th save in 17 tries.
The Reds broke a 1-1 tie in the sixth. With one out, Adam Duvall doubled down the right field line.
The next batter, Eugenio Suarez, was called out on strikes and broke his bat on the plate in disgust before being ejected by home plate umpire Brian O'Nora.
Schebler followed with a line shot to right field, where David Peralta slipped breaking for the ball. The ball got past him for an RBI double and Cincinnati led 2-1.
The Diamondbacks had runners at first and second with no outs in the sixth when Owings singled to short left field but Paul Goldschmidt, trying to score from second, was thrown out at home by Duvall. With runners at second and third, Bailey struck out Chris Iannetta and Ketel Marte to escape the threat.
Bailey led off the third with his first hit of the season and Billy Hamilton bounced into a fielder's choice. Hamilton stole second, his 37th stolen base of the season and fourth in two games. Votto poked a soft single into center field to bring Hamilton home and make it 1-0.
With one out in Arizona's half of the inning, Pollock hit Bailey's 0-1 pitch into the seats just beyond the swimming pool in right field, an opposite-field shot that tied it at 1-1. It was just Pollock's third home run of the season and first since he returned from a six-week stay on the disabled list.
The Diamondbacks threatened in the fifth when Gregor Blanco led off with a double off the glove of a diving Duvall in left. Corbin advanced the runner with a sacrifice bunt but Blanco was easily thrown out at home on Pollock's short grounder to the shortstop Jose Peraza.
Four of Arizona's last five losses were by one run.
TRAINER'S ROOM
Diamondbacks: OF Yasmany Tomas has missed the last 31 games and an MRI last week indicated there could be a significant problem with his groin. There is no timetable for his return. Arizona has gone 19-12 without him.
UP NEXT
Diamondbacks: After sending four players to the All-Star game (Paul Goldschmidt, Zack Greinke, Robbie Ray and Jake Lamb) , Arizona resumes play Friday at Atlanta. Taijuan Walker ( 6-4, 3.65 ERA) will start for the Diamondbacks.
Reds: Cincinnati resumes play Friday at home against Washington. Either RH Luis Castillo (1-1, 3.13) or RH Tim Adleman (5-6, 4.71) will start for the Reds. Cincinnati will have Joey Votto and Zack Gozart in the All-Star Game.