Badgers sack Trojans in Holiday Bowl behind unknown's monster series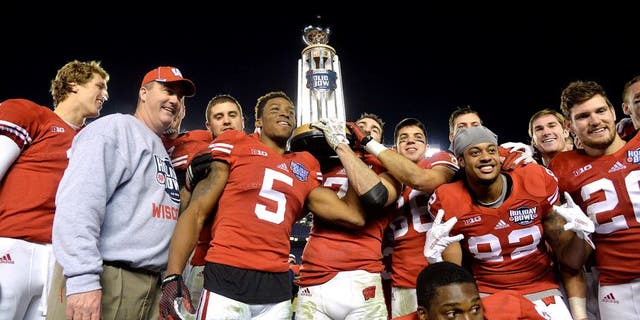 SAN DIEGO
Rafael Gaglianone kicked a 29-yard field goal with 2:27 left to lift No. 23 Wisconsin to a 23-21 victory against Southern California in the Holiday Bowl on Wednesday night.
Gaglianone's third field goal gave Wisconsin (10-3) its first win in seven tries against USC (8-6). The teams hadn't met since 1966, and two of USC's wins in the series were in the Rose Bowl, in 1953 and 1963.
Wisconsin's Sojourn Shelton intercepted Cody Kessler with 1:44 left. Kessler was hit from behind by Jack Cichy.
In the third quarter, Cichy sacked Kessler on three straight plays.
The Trojans got to the 50 in the final seconds before Kessler threw four straight incompletions.
USC, which beat Nebraska in last year's Holiday Bowl, had taken a 21-20 lead on Kessler's 7-yard touchdown pass to Darreus Rogers with 10:19 left.
Kessler was flushed from the pocket but scrambled around. Rogers got open and made a leaping catch.
Gaglianone also had field goals of 38 and 33 yards.
Wisconsin was in control for much of the game. Corey Clement scored on a 6-yard run midway through the second quarter for a 10-0 lead. Joel Stave threw a 4-yard scoring pass to tight end Austin Traylor for a 20-7 lead midway through the third quarter.
The Trojans gained some momentum with Justin Davis' second TD run of the game, with 5:34 left in the third quarter. On USC's next possession, Cichy broke through to sack Kessler three straight times, for a total loss of 24 yards.
Davis' first TD was a 1-yard dive over the top on fourth down in the second quarter. That drive was kept alive on a 34-yard pass from Cody Kessler to Adoree' Jackson on fourth-and-4 from the 36.
Kessler was 18 of 32 for 221 yards. Stave was 18 of 27 for 217 yards.