Badgers-Ohio State Off-Beat Preview: Reasons to believe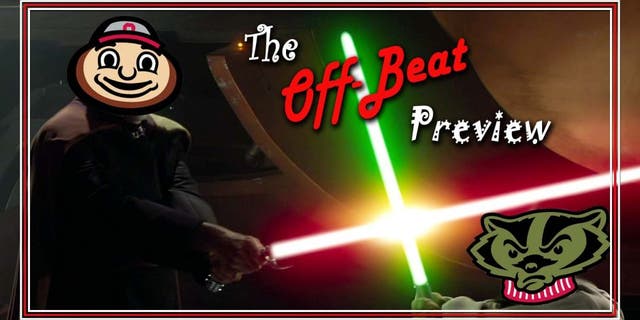 If you are looking for hard-hitting analysis, yeah, this ain't it. But if you want a fun, entertaining read, you've found the right place. For more of Brandon Rifkin, please head to his blog or follow him on Twitter.
It was, without question, one of the greatest sporting events I have ever witnessed.
You know the game, of course: undefeated, No. 1 Ohio State came to Madison six years ago ready to steamroll UW in their own house. You also remember, of course, how that game started...
...and also how it ended:
Why am I using so many commas? DISJOINTING, ISN'T IT? But this is the blueprint. This is the motivation and the reason we BELIEVE that we can overcome being 10-point dawgs at home and beat a team that is objectively better at football than Wisconsin. No one who has watched these teams so far this year would say with a straight face that UW is better, or even that these teams are evenly matched. OSU deserves to be 10-point favorites on the road in a night game at Camp Randall. That Urban Meyer is really good and annoying!
But if you know me, you know I've already convinced myself that we can hang with them. And despite all the injuries, a BUMPIN' Camp Randall can tilt the field in our favor.
Screw it. Let's party on the turf all night and light those goalposts on FIRE.
BIG TEN FEAR RANKINGS
1) Ohio State, 5-0 (2-0). BRING 'EM ON
2) Michigan, 6-0 (3-0). I want these guys on a neutral field with a healthy lineup SO BADLY. Indy sounds lovely!
3) Wisconsin, 4-1 (1-1). Slight derailment of the #HornibrookExpress, but I can assure you the guys below deck are back shoveling coal at an astounding rate. CHOO CHOOOOOO #AllInOnHornDawg
4) Nebraska, 5-0 (2-0). Boring win over Illinois. Here's a pic of Dany:
My dog walker takes great pics and I am way jelly. I think I gotta do the DNA testing because I am tired of people asking me what breed she is and always answering with "well a lot of black lab and I don't know what else."
5) Penn State, 4-2 (2-1). Of course, right as they looked like they were throwing their season into the basura, they go and beat Minnesota and Maryland and position themselves for a solid run down the stretch here. Womp womp.
6) Maryland, 4-1 (1-1). Pretty sure I've finally convinced myself that Maryland was a worthy addition to the league. Good at hoops AND the football program looks halfway decent. Thank you for not being Rutgers!
7) Michigan State, 2-3 (0-2). Wait, didn't we all agree two weeks ago that they weren't going to be overrated so we could keep leaning on that win all season as a sign that we're incredible? DID YOU NOT RECEIVE THE MEMO?
8) Indiana, 3-2 (1-1). Being down 7 late into the third quarter at the Horseshoe is actually a great moral victory. I didn't get to watch the game, but from what I heard IU kept it close despite some absolutely boneheaded plays. Encouraging!
9) Iowa, 4-2 (2-1). Do we know ANYTHING about how good this Iowa team is? No, we do not. And I will not fear them until proven fearable.
10) Purdue, 3-2 (1-1). LOL purdue forever and ever and ever
11) Minnesota, 3-2 (0-2). Minnesota athletics: gotta love 'em.
12) Northwestern, 2-3 (1-1). You stop it RIGHT NOW. You do NOT go and sneak your way into a bowl game, and that's an order.
13) Illinois, 1-4 (0-2). #Truth:
This has sneakily become one of my favorite tweets. Let's see what he thought of the 78 point loss to Michigan:
Agreed!
MATCHUP TO WATCH
Feeble Camp Randall Security vs. The Throng of Charging Students. Total lose/lose job being the band of 100 security guards with 20k drunk students rushing at you desperate to get on the field and celebrate a season-altering, season-defining victory over an annoying conference foe. Am I getting ahead of myself? PERHAPS
THIS WEEK'S GAME IN HAIKU
10 point dawgz at home
Off a bye, under the lights?
Umm nah, don't think so
VIDEO OF THE WEEK
This is why the internet was invented: to prove that Donald Trump is ripping off Hoobastank to apologize for talking about grabbing girls by the... I can't believe this is an actual sentence I'm typing about a legitimate presidential candidate.
Well, legitimate is a loose term here. OKAY NO MORE POLITICS
#FOODPORN
Did I already use this picture? I don't care. Pepperoni onion pizza from Alexander's in Eagle River, WI is as good as it gets. Big ol' pepperoni hiding UNDER DA CHEESE, which is the name of potentially the best Weird Al "Little Mermaid" parody I've ever invented.
WARNING: Do not google "under the cheese" to see if this song already exists. I do not feel like eating anytime soon.
PREDICTION CITY
The Camp will be shaking and I think that Michigan loss has stewed long enough to make the boys never want to feel that again. Insert 50 more cliches here. Make it rain from the money tree. #AllInOnHornDawg back in action and better than ever. #TurfParty coming right up. THE PICK:

WISCONSIN 21, Ohio State 17
***
ON WISCONSIN