Awful kick return helps Miami make history with yet another safety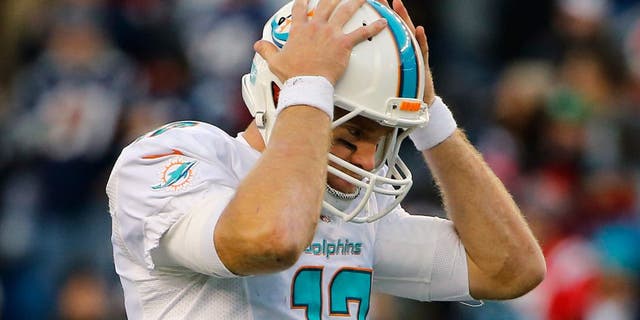 The Dolphins' offensive line continues to struggle, allowing a safety in their third consecutive game. Winslow Townson USA TODAY Sports
For the third consecutive game, the Miami Dolphins have surrendered a safety. On this occasion, it wasn't a bad snap that did them in -- it was a terrible kick return by Damien Williams.
In the first quarter of Sunday's game against the Philadelphia Eagles, Williams bobbled the kickoff but proceeded to attempt to take it out of the end zone. He fell at the 1-yard line, giving the Dolphins horrendous field position.
After a false start on first down, quarterback Ryan Tannehill was sacked by Walter Thurmond and fumbled the ball out of the end zone for a safety, giving the Eagles a 9-3 lead. With that, the Dolphins became the first team since the 1980 Seahawks to allow a safety in three consecutive games.
Miami has had trouble along the offensive line all season, with this instance yet another example. Thurmond had a free run at Tannehill and took full advantage, hitting him hard in the back. Fortunately, Tannehill wasn't injured on the play, but he easily could have been.
MORE NEWS: Want stories delivered to you? Sign up for our NFL newsletters.