Austin Theriault thankful injuries from Las Vegas Truck Series incident not worse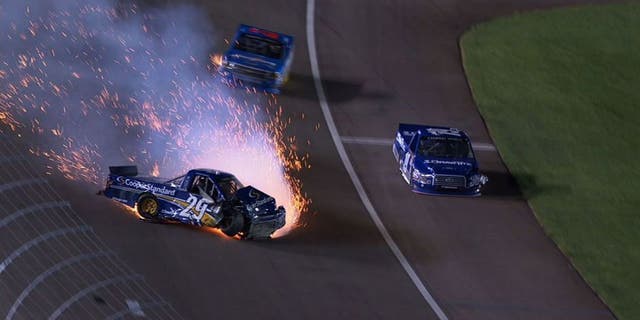 Prior to Friday's final NASCAR Sprint Cup Series practice at Charlotte Motor Speedway, Austin Theriault walked gingerly across the garage area to give team owner Brad Keselowski thumbs up before he hit the track.
One week earlier, Theriault was giving the fans at Las Vegas Motor Speedway the thumbs up, but did so from a backboard as he was being loaded into an ambulance.
Theriault, who drives for Brad Keselowski Racing in the NASCAR Camping World Truck Series, was involved in a frightening incident in which his truck hit an unprotected concrete wall nearly head on. The wreck, which occurred with BKR teammate Tyler Reddick, took place at one of the fastest parts of the track.
While Theriault was able to climb out of his seat, safety workers had to help him out of the truck and he immediately went to the ground. Transported via helicopter to a local hospital, Theriault was diagnosed with a 10 percent compression fracture of his back and suffered multiple bumps and bruises.
Standing in the CMS Sprint Cup garage, Theriault constantly adjusted the back brace he is now forced to wear, but remained in good spirits.
"Obviously a pretty tough impact last Saturday in Vegas. All in all, putting it all into perspective, I'm very fortunate the injuries weren't worse than they are," Theriault told FOXSports.com. "Obviously at the time I was in a lot of pain. The doctors did what they could and made the right decisions planning for the worst and getting me to the hospital. Come to find out there were some issues with my back, nothing that prevented me from leaving the hospital that night. It was actually the morning when I got out."
While he never lost consciousness from the impact, Theriault knew immediately he was injured, saying the pain helped guide him through it all. Given the seriousness of the situation, he commended the safety officials for helping him.
"I knew I could do more harm than good. At the end of the day they were going to have to help get me to the infield care center," he said. "They took every precaution that they needed to take. That's what I really liked about the whole situation; they didn't make it any worse.
"At the end of the day, it's not a comfortable injury," he said. "Your back is one of the most important parts of your body. It holds everything up. It sends signals to all parts of your body and tells it what to do. It's a very important place, that if you are injured to take care of it and not reinjure it or put yourself in a position to cause other problems. That's what I'm doing right now."
Theriault will have to wear the back brace until his doctors tell him it is no longer needed.
"It could be a few weeks, to a month, maybe more," he said. "I know the safety of the sport has come a long way over a certain amount of years. That's why I keep saying it could have been a lot worse."
After Theriault's frightening hit last Saturday night, Keselowski and fellow Sprint Cup driver Kyle Busch took to Twitter to call on tracks to use Steel and Foam Energy Reduction (SAFER) barriers along every wall. Busch was injured during the season-opening XFINITY Series race in February after hitting an unprotected concrete wall nearly head on.
"It was really encouraging," Theriault said of the support he received from fellow competitors. "Brad is a good owner and a good person. Kyle is a good person and he's been through this before. These guys, they're at a position in their career where they can maybe affect change more than me. I'm still trying to establish myself. To a certain extent, they made the statement they felt was good for them on my behalf. I'm just at the point now where I'm just trying to get better physically.
"Knowing that NASCAR and the tracks are going to continue to make safety improvements -- they were going to before my injury, and they will after either way. So it was just unfortunate that it had to happen," he said. "Whether it accelerates it or not, things are going in the right direction. It was just being in the wrong place at the wrong time."
Although there is more work to be done to ensure no drivers are injured, the safety innovations already in place allowed Theriault to be standing in the Sprint Cup garage one week after his vicious hit.