Auburn running back competition to continue into season?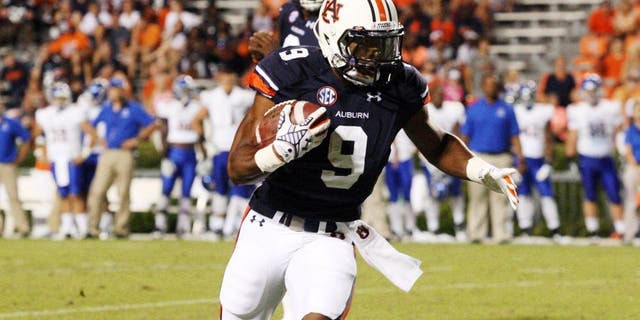 NEWYou can now listen to Fox News articles!
There's still a lot of uncertainty as to how Auburn will divvy up carries this year among its assortment of running backs -- and it seems that the uncertainty will continue into the season.
Sophomores Roc Thomas and Peyton Barber have been regarded as the frontrunners throughout most of camp, with highly touted juco-transfer power back Jovon Robinson also in the mix along with speedy true freshman Kerryon Johnson. But according to Auburn offensive coordinator Rhett Lashlee, the Tigers' plan -- at least at this point -- is to let the competition play itself out in a "by committee" system.
"We're going to need all four of them," offensive coordinator Rhett Lashlee told AL.com on Sunday. "We're going to plan on playing them all and kind of see how that works itself out."
Auburn coach Malzahn said last week that he hopes to have a feature back established and a started named by the LSU game, giving the running backs two games to make their cases.