Astros' McCullers denies making 'throat-slash' gesture at Royals in Game 4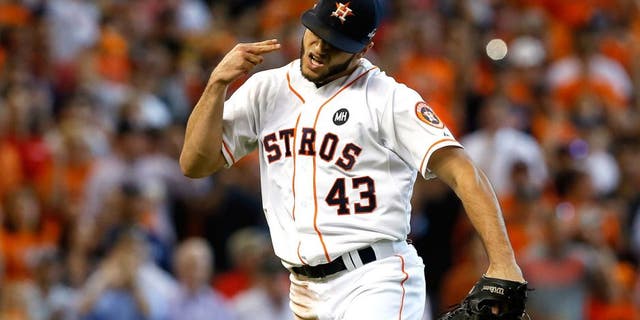 NEWYou can now listen to Fox News articles!
Rookie Lance McCullers pitched well for the Houston Astros on Monday in their ALDS Game 4 matchup with the Kansas City Royals. His six strong innings would have put him in line for a win were it not for the Houston bullpen's eighth inning meltdown.
After the game, an interesting claim was suggested by a few Royals players regarding McCullers' celebratory gesture after finishing the sixth inning: They said he made a 'throat-slash' gesture upon finishing the frame. As quoted on Twitter by Andy McCullough of the Kansas City Star:
McCullers didn't stay quiet about the claims made against him, though. He took to Twitter to issue a response:
Whether McCullers made the gesture, of course, doesn't matter considering the series is now tied and will be decided with a Game 5 at Kauffman Stadium on Wednesday. Still, it serves as a demonstration of the emotional highs that go along with pressure-packed October baseball.