As The Yankees Turn: Teixera Out, A-Rod Drama, Jeter's Birthday And More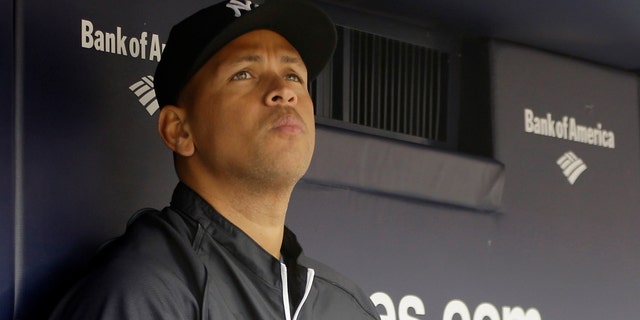 Is this the Bronx Bombers or a daytime soap opera?
Mark Teixeira is out for the season. Brian Cashman regrets his outburst. Alex Rodriguez has a heart-to-heart with owner Hal Steinbrenner and don't forget the captain Derek Jeter just turned 39 years young.
These are the days of the Yankees lives, or so it seems.
On a wild day in Yankees land, with big news coming out of New York — and the weight room in Tampa, Fla. — baseball's most storied franchise paraded three prominent figures in front of a microphone at Yankee Stadium for 45 minutes worth of press conferences Wednesday to discuss a myriad of team issues.
The most disappointing development for the Yankees concerned Teixeira, who will have season-ending surgery on his right wrist, probably early next week.
The club announced that the switch-hitting first baseman had an MRI with dye contrast and team physician Dr. Christopher Ahmad determined that Teixeira's torn tendon sheath had not adequately healed. Three hand specialists concurred, and the two-time All-Star said he was told he should be 100 percent healthy six months after surgery.
"It's very tough, especially in a season where the team could probably use me," Teixeira said, batting second in the news conference lineup between manager Joe Girardi and Cashman.
Teixeira was hurt while hitting off a tee March 5, when he was with the U.S. team at the World Baseball Classic. He made his season debut May 31 and got off to a strong start but came out of a game June 15 because of inflammation. He went back on the disabled list and did not respond to a cortisone shot.
"I usually respond very well to cortisone shots," Teixeira said. "When it didn't work and it wasn't getting any better, I knew it was probably going to be bad news."
Toronto slugger Jose Bautista, limited to four at-bats after July 16 last year because of a similar injury, had surgery last Sept. 4 and was ready for spring training.
Teixeira said he had no regrets about going to the WBC or trying to rehab his wrist rather than opting for surgery sooner. Most of his $23,125,000 salary this season will be covered by insurance.
"At some point on the West Coast, I re-injured it. I don't know exactly when," Teixeira said. "The doctor said this is kind of a classic overuse injury. ... I think it would have probably happened no matter where I was."
Lyle Overbay, signed late in spring training, has filled in admirably at first base and provided a string of clutch hits despite a .282 on-base percentage. Unless the Yankees find an upgrade elsewhere, Overbay will continue to start. He homered Wednesday night in an 8-5 loss to Texas.
"It doesn't really change what we're trying to accomplish, it just makes it a little bit different in how you accomplish it," Girardi said.
Teixeira was hitting .151 with three homers and 12 RBIs in 53 at-bats. He is among five injured regulars who have missed a substantial part of the Yankees' season.
Rodriguez, of course, is one of them. The three-time AL MVP had left hip surgery on Jan. 16 and New York has said it expects both A-Rod and Jeter to return sometime after the All-Star break.
Jeter, who turned 39 on Wednesday, has been sidelined since breaking his left ankle last Oct. 13 in the AL championship series opener. He reinjured the ankle while rehabbing.
The status of A-Rod's rehabilitation, however, became a major point of contention this week.
The star third baseman posted Tuesday evening on Twitter that his hip surgeon had cleared him to play in rehab games, a move that angered Cashman because Rodriguez has not been cleared by team doctors yet — a point the general manager had just explained to reporters the day before.
Cashman told ESPNNewYork.com that "Alex should just shut ... up," punctuating his comment with a profanity.
"I regret the choice of words I used," Cashman said Wednesday, later adding: "I think we're both at fault."
Cashman said Steinbrenner spoke with Rodriguez when the owner was working out in the weight room at the team's complex in Tampa, where Rodriguez has been rehabbing lately.
Cashman said Steinbrenner reiterated to A-Rod that injury information should be announced by the team, not individual players on social media.
"Alex grabbed Hal and they had a conversation. Hal reiterated about — he did it in a more professional way maybe than I did — but about managing from the top down rather than from the bottom up, which obviously is how I reacted from yesterday's tweeting and contradicting statements and things of that nature," Cashman said. "He got the message, I know that."
Cashman said the Yankees want a healthy A-Rod back at third base as soon as possible, and dismissed the notion that the club would rather he not hurry back because it could collect insurance on his hefty salary, or because he could be facing a suspension from Major League Baseball for his alleged involvement in the Biogenesis drug scandal.
"False and false," Cashman said.
Rodriguez did not stop to speak with reporters Wednesday when he drove into the team's minor league complex in Tampa.
"I will continue to work hard until my efforts get me back in pinstripes and help my team win," he said in a statement. "The tweet was pure excitement about Dr. Kelly's prognosis."
Cashman initially said Rodriguez did not get back to him after he tried to contact the slugger Tuesday night, but just before the first pitch Wednesday, Yankees spokesman Jason Zillo told reporters that Rodriguez called Cashman around 5:30 p.m., and spoke with the GM and team president Randy Levine.
Zillo said they spoke for nearly 30 minutes and everyone "fully understands the protocol and processes in place."
"It was a constructive, healthy conversation. Everybody is on the same page and we're all going to communicate and work together to get Alex back as quickly as possible," Zillo said. "They're all back on track."
Based on reporting by The Associated Press.
Follow us on twitter.com/foxnewslatino
Like us at facebook.com/foxnewslatino