As suspensions loom, who should the USMNT start against Ecuador?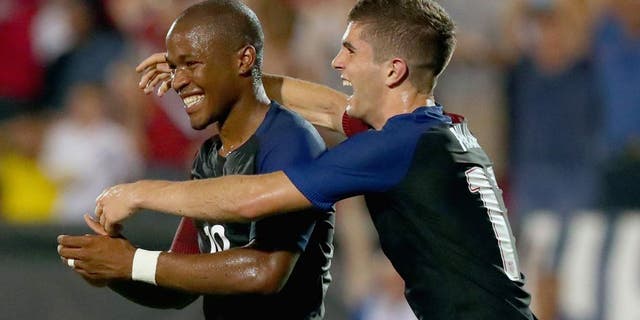 NEWYou can now listen to Fox News articles!
For the group stage of the Copa America Centenario, consistency has been king and United States national team coach Jurgen Klinsmann has started the exact same lineup for three games straight. It was a winning formula with the USA topping their group after their 1-0 win over Paraguay on Saturday.
But now with the U.S. moving into the knockout stages and a quarterfinal clash against Ecuador on Thursday, Klinsmann has no choice but to shake things up.
Right back DeAndre Yedlin earned two yellow cards in the USA's final group game and is suspended. Seven more players are carrying one yellow card, which makes them vulnerable to suspension as well.
Looking at what Klinsmann will do, it is worth noting a caveat: Klinsmann has seemingly changed his coaching style overnight to one that favors consistency and comfortability after recent hints that U.S. Soccer is getting serious about evaluating his future at the helm of the program. While in the past the U.S. coach has been unpredictable and, to outsiders, seemed to make arbitrary changes, we should expect a more conservative approach against Ecuador.
So now, with yellow cards throwing a wrinke into the mix, what is Klinsmann going to do?
The Yedlin dilemma: Who replaces him?
Losing Yedlin -- who has transformed with Sunderland into a right back that is valuable for his defensive abilities -- is particularly damaging with Ecuador up next. Ecuador are incredibly dangerous on the flanks, relying on the speedy world-class winger duo of Antonio Valencia and Jefferson Montero to create chances.
The most obvious change Klinsmann could make is to replace Yedlin with Michael Orozco. But there is a significant drop-off in quality between the two right backs, to the point where Orozco's initial inclusion on the Copa America roster was met with some surprise.
Orozco barely played for Club Tijuana this season and counting on him to be in top form is a big risk in a high-stakes knockout match like this. But if Klinsmann wants to keep his players in their most familiar positions, then Orozco is Klinsmann's best option so the rest of the back line can stay intact.
If Klinsmann is willing to shuffle things a bit more, he could instead slot Edgar Castillo in the left back position he played so well for Monterrey this season, where he fell just short in the Liga MX Clausura final. It would push Fabian Johnson out of left back and over to the right back spot, but it could be a good change for Johnson, who is right-footed but normally plays as a left winger for Borussia Monchengladbach.
When it comes to Johnson's role with the national team, the question has never been: Where is his most natural position? Instead, it starts from the premise that he is one of the best players the U.S. has at their disposal, and the question becomes: Which position needs the most help? With Yedlin out and left-footed Castillo pushed to the left, the answer then becomes right back.
There is one other option that would've been more likely before Klinsmann's recent preference for consistency, but now looks like a long shot. Matt Besler could be slotted into a centerback role and Geoff Cameron could be pushed to the right back role that he has played many times for the U.S. national team.
The difference lately is that the centerback pairing of Cameron with John Brooks has been exceptional. With the USMNT's recent struggles to find a tandem that works well together, it would be unnecessarily disruptive to break apart that solid Cameron-Brooks pairing.
Yellow card quandary: More changes?
The list of U.S. players who are carrying a yellow card in Copa America is a long one: Orozco, Brooks, Johnson, Michael Bradley, Bobby Wood, Jermaine Jones and Alejandro Bedoya. If any of those players earn a yellow card on Thursday, they would be suspended for the semifinal if the U.S. advances to that round.
On top of yellow cards, normal fatigue looms. On Thursday, the U.S. will play their fourth game in 13 days after crossing the country twice.
Klinsmann has always said that once the U.S. enters the knockout round, it's a whole new tournament -- and Thursday against Ecuador may be the time to make some changes.
Fans have been clamoring to see newcomers Darlington Nagbe and Christian Pulisic start and they could get their wish -- at least as far as Nagbe goes. Since earning American citizenship last year, he has been on an impressive run of form with the Portland Timbers, leading them to their first MLS Cup last winter.
Klinsmann has been hesitant to depend on Nagbe for a starting role with the U.S., using him off the bench, but in those appearances, Nagbe has shown he works well with Bradley. Not only is Nagbe good in tight spaces off the dribble, but he is excellent in providing an outlet for Bradley and connecting the lines up the field. If Klinsmann opts to give a break to Jones, the team's oldest outfield player at 34, Nagbe would be the best candidate to replace him.
Other positions that could see changes include replacing Bedoya with Graham Zusi along the right flank and saving Wood for a possible semifinal with Chris Wondolowski slotted in to partner with Clint Dempsey.
But with reaching the semifinal being Klinsmann's stated goal, it seems like a good bet that he will field the best starting lineup he can, regardless of yellow cards.
MORE FROM FOX SOCCER