As Chiefs consider final cutdown, plenty of questions loom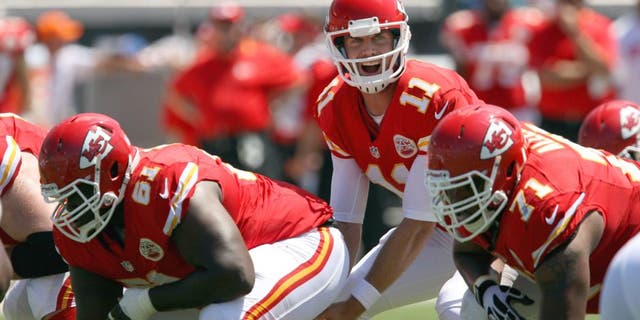 KANSAS CITY, Mo. -- John Dorsey watched the Kansas City Chiefs play their preseason finale against the St. Louis Rams with a close eye, keenly aware that a game meaningless to many meant much to his players.
Like every other NFL team, the Chiefs will need to pare their roster from 75 players to the league limit of 53 by Saturday. But unlike many teams, Dorsey may be waiving numerous players who are picked up by other teams for the first time since taking over as general manager.
In other words, the pressure is on to make the right decisions.
"What's unique about that game is you want to continue to evaluate," he said. "You want to see those guys that have a chance to earn a roster spot. ... That's why it's so critical because there's four or five spots up for grabs."
Dorsey would never disclose which spots those might be, but an exercise in deduction can at least pinpoint a few places on the roster where the competition has been tight.
Start with the offensive line, where left tackle Eric Fisher (ankle) and right guard Jeff Allen (knee) have been hobbled by injuries much of training camp. Neither has played in the past couple of preseason games, and it remains unclear whether either of them will be ready for the regular-season opener Aug. 13 at Houston.
Will the Chiefs keep nine offensive linemen, or perhaps keep 10 because of the injuries? If so, who earns that final spot? Along with the starters -- Fisher, Allen, Ben Grubbs, Mitch Morse and Donald Stephenson -- backups Paul Fanaika, Laurent Duvernay-Tardif, Eric Kush and Zach Fulton appear to have the best chance of making the cut.
On a related note, do the Chiefs keep four tight ends with Demetrius Harris having just returned to the team after multiple foot surgeries? Travis Kelce is among the best in the league, and rookie James O'Shaughnessy is promising. Richard Gordon and Ryan Taylor also are options.
"Number one, you look for consistency -- talent and consistency," Chiefs coach Andy Reid said. I think we've got good talent there."
Sticking with the offense, there has been a healthy competition at wide receiver throughout training camp. Jeremy Maclin, Albert Wilson and rookie Chris Conley are the unquestioned leaders, but Frankie Hammond Jr. and Fred Williams have made a push for playing time.
"Right now," Dorsey said, "we're at a level all across the roster where guys can compete."
That goes for defense, too, though things appear a bit more settled on that side.
The defensive backfield is mostly set with rookies Marcus Peters and Steven Nelson playing well in training camp, and veterans Eric Berry, Husain Abdullah and Ron Parker providing plenty of leadership. Sean Smith will be suspended for the first three games for violating the league's substance-abuse policy, and his eventual return will only make the Chiefs more stout.
The linebacker corps is a little more unsettled. Pass rushers Justin Houston, Tamba Hali and Dee Ford are playmakers, and Derrick Johnson is back from injury to man the middle. But his wingman on the inside is a bit uncertain -- Josh Mauga has struggled when he hasn't been banged up, allowing rookie Ramik Wilson to slowly eat into his playing time.
Then there's the defensive line, where Dontari Poe's back surgery could create space for a longshot to make the roster -- perhaps Nick Williams or rookie Rakeem Nunez-Roches.
"I think the depth this preseason, it's shown through, I think at all positions," Chiefs quarterback Alex Smith said. "We have a very, very deep group. I think they've made it tough on the personnel guys and on the coaches once cuts come. So we do have a very good group, and most likely we'll be letting someone go that is going to play with somebody else."
That's precisely why Dorsey was watching so closely Thursday night.