Art Briles asks to be removed from Baylor sexual assault lawsuit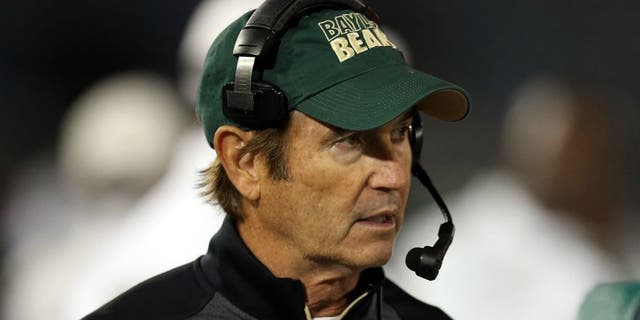 NEWYou can now listen to Fox News articles!
AUSTIN, Texas -- Fired Baylor coach Art Briles is fighting back, nearly two months after he was let go in the fallout over how the school investigated rape allegations.
His latest move came Wednesday when Briles asked a federal judge to remove him from a lawsuit that accuses him and other school officials of ignoring a woman's claims she was raped by former player Tevin Elliot, who was later convicted and sent to prison.
Former Baylor student Jasmin Hernandez sued in March, naming Briles, former athletic director Ian McCaw and the Baylor Board of Regents as co-defendants. She alleges they violated federal Title IX rules against gender discrimination in programs that receive federal aid. The Associated Press generally doesn't identify sexual assault victims, but Hernandez has spoken publicly to draw attention to the case.
Briles' lawyers argue he can't be sued as an individual in a Title IX lawsuit. They also say claims that Briles ignored warnings of a sexual predator on his team were based on hearsay, and that any action against him would fall outside of a two-year statute of limitations. Hernandez was attacked in 2012 and didn't file her lawsuit until 2016.
Briles' motion argues that the Title IX claims against McCaw and the regents should also be dismissed and that he can't be held liable for the attack on Hernandez under state law.
"It is well established in Texas that as a general rule, a person has no legal duty to protect another from the criminal acts of another," Briles' motion argues.
Even the limited liability standards Texas does allow don't apply to Briles in this case, the motion said.
"Coach Briles was not the employer of Tevin Elliot or (Hernandez), two adult students of Baylor University, who met off-campus at a private apartment complex during a party that was not organized or sponsored by Coach Briles or Baylor University," Briles' motion said.
Briles' lawyers filed a separate motion asking the court to consider removing Hernandez attorney Alex Zalkin from the case or at least order him to not discuss it publicly. Briles alleges Zalkin falsely told ESPN on June 20 that the coach broke a promise to attend a June 17 settlement meeting to apologize to Hernandez but didn't show. Briles said he never spoke with Hernandez or her lawyers.
Zalkin's statement to ESPN was "for the sole purposes of defaming the character, credibility, and reputation of Coach Briles and deprive him of a fair trial in a Court of law," Briles' motion said, accusing Zalkin of waging a "media war" against the coach.
Briles' motion against Zalkin also emphatically renewed his insistence that he does not want to settle with Hernandez "because he did not do anything wrong."
Zalkin said he was aware of Briles' motions but declined immediate comment.