Arizona-Washington State preview: Expect some fireworks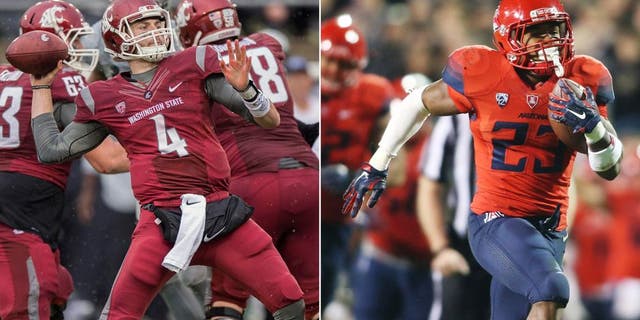 NEWYou can now listen to Fox News articles!
TUCSON, Ariz. -- Arizona runs an up-tempo spread offense that has been among the national leaders since Rich Rodriguez became coach.
Washington State has had similar success with its spread offense under coach Mike Leach. The difference is how the two teams get to where they want to go.
"They spread you out to run it and we spread you out to throw out," Leach said.
However they do it, expect an offensive show in the desert on Saturday.
Arizona (5-2, 2-2) enters the game first in the Pac-12 and ninth nationally with 41.7 points per game, well ahead of pace to break the school record for a season of 38.5 points per game set in 1954. The Wildcats are eighth nationally in total offense, averaging 542.4 yards per game, and sixth in rushing yards with 297.4 yards per game.
Washington State is first in the Pac-12 and fourth nationally with 398.5 yards passing per game and has attempted 332 passes, second-most to Texas Tech's 346. Cougars quarterback Luke Falk is fifth nationally with 2,371 yards and has thrown for 21 touchdowns with four interceptions.
Washington State also has unpredictability on its side; Leach has built a bit of a mad scientist reputation, going back to his days at Texas Tech.
"Mike will do anything from anywhere," Arizona coach Rich Rodriguez said. "You have to be aware of that, because they'll attack."
But it's not just the prolific nature of the offenses that should set up an offensive showcase.
Neither team has been particularly good on defense.
Arizona State is 10th in the Pac-12 in total defense and gave up 111 points in consecutive losses to UCLA and Stanford. Washington State is ninth in total defense and allows 29 points per game.
In other words, looking down even for a second could lead to missing something as these offenses race from one end zone to the other.
A few more things to watch for in Saturday's game between Washington State and Arizona:
ARIZONA INJURIES: The Wildcats have not been able to keep All-American linebacker Scooby Wright on the field for an entire game and have been hit by a slew of other injuries. Cornerback DaVonte Neal missed the past two games with a hamstring injury and is questionable for Saturday's game. Safety Tellas Jones also is questionable after suffering a concussion against Colorado last week. Running back Nick Wilson (foot) and defensive lineman Park Zellers are questionable and receiver Tyrell Johnson (hamstring) is out.
RUNNING COUGARS: Washington State is known for throwing the ball, but the Cougars have started to add a potent running game to go with all those throws. Washington State has three 100-yard rushing games this season, including Oregon and Oregon State in consecutive weeks, the first time that's happened under Leach.
BAKER SHINES: Jared Baker has given Arizona some big yards with Wilson nursing a foot injury. The senior ran for a career-high 207 yards and two touchdowns against Colorado last week and has averaged 10 yards per carry the past two games. With Wilson's foot still bothering him, Baker could get another heavy load of carries against the Cougars.
FLYING FALK: Falk put up big numbers even as he was trying to get comfortable as the full-time starter. Now that he's settled in, the numbers keep growing. Falk had one of the greatest days in Washington State history a week ago, throwing for six touchdowns in the first half and 407 yards in a 52-31 win over Oregon State. The sophomore has completed 89 of 124 passes for 11 touchdowns and 911 yards the past two games.