Arizona State focused on avoiding letdown vs. Colorado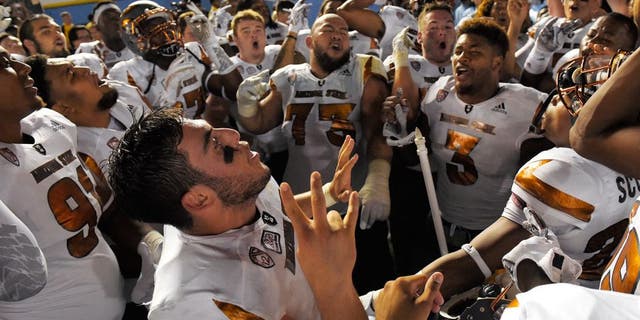 NEWYou can now listen to Fox News articles!
TEMPE, Ariz. -- Arizona State got its season back on track with last weekend's road win over UCLA.
That was only one step, though. The Sun Devils still have a long way to go to reach their goal of playing for the Pac-12 championship -- and little room for error.
Follow up the win over the Bruins with a home loss to Colorado on Saturday and Arizona State's momentum, not to mention chances of winning the Pac-12 South, will be gone.
"It's single-game elimination," Arizona State coach Todd Graham said. "You've got to go win the next one and win the next one, so obviously it was a huge, huge win for us, and very proud of our guys, but we've got seven more steps to get to the game we want to be playing in, and the next one and the most important one is Colorado."
Arizona State's last step was a big one.
Blown out at home by Southern California the week before, the Sun Devils (3-2, 1-1 Pac-12) responded with their best all-around performance of the season in a 38-23 win over the Bruins, who were ranked No. 7 at the time.
Next up is Colorado, which has taken a step forward in its third season under coach Mike MacIntyre.
The Buffaloes (3-2, 0-1) opened with a disappointing loss to Hawaii, but reeled off three straight wins.
Even in last week's 41-24 loss to Oregon, Colorado showed signs of making progress. Oregon had won the previous four games in the series by an average of 43 points, but the Buffaloes were tied at halftime and still within a touchdown in the fourth quarter before the Ducks pulled away.
"We are a better defense, but they (the Sun Devils) are good athletes in space and we've got to cause turnovers and make stops on third downs," MacIntyre said. "Pac-12 teams are going to gain some yards. We have to keep them out of the end zone and cause more turnovers."
A few more things to look for when Colorado plays Arizona State at Sun Devil Stadium:
BERCO'S RISE: Mike Bercovici had some uneven performances early in his first season as Arizona State's full-time starter. The senior seemed to hit his stride against UCLA last week, throwing for 273 yards and two touchdowns. He also proved to be a threat running the ball for the first time this season, reeling off a 34-yard touchdown run, and was better at getting rid of the ball to avoid sacks.
COLORADO IN CONFERENCE: Despite the progress Colorado has made, the Buffaloes still have a couple of big hurdles to get past: Winning in the Pac-12 and doing it on the road. The loss to Oregon was the Buffs' 10th straight in conference and its 12th straight in a Pac-12 road game.
STOPPING THE RUN: A key for both teams in this game will be stopping the run. Despite an injury to Patrick Carr, the Buffaloes have had one of the nation's best rushing attack, ranking 18th nationally with 233 yards per game. Arizona State hasn't had quite the same consistent success, but had a breakout game on the ground last week, pounding UCLA for 221 yards on 46 carries, including Kalen Ballage's carry-everyone-into-the-end-zone touchdown that sealed it.
COLORADO'S INJURIES: Colorado will likely be without its two first-string inside linebackers against Arizona State. Kenneth Olugbode is expected to miss 4 to 6 weeks after a hit in the Oregon game sent him to the hospital to have his swelling leg drained. Addison Gillam was injured the second game of the season and isn't expected to be back in time for Saturday's game. Left tackle Sam Kronshage is undergoing the concussion protocol and his status is uncertain.