Arizona, Rodriguez put Utah win aside to focus on ASU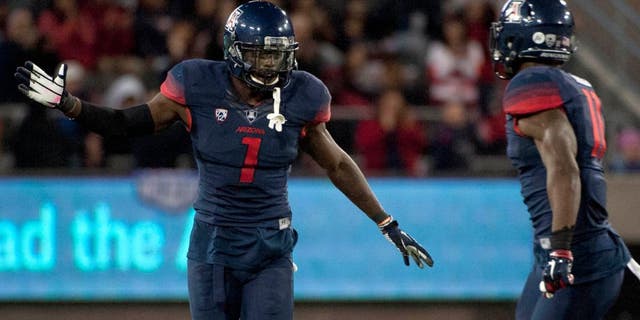 NEWYou can now listen to Fox News articles!
As is Rich Rodriguez's custom, Arizona's players had 24 hours to enjoy their biggest victory of the year -- Saturday night's double-overtime win over then-10th-ranked Utah.
By Monday, it should have been long forgotten. An even bigger opportunity awaits Saturday in Tempe, the 89th Territorial Cup game vs. Arizona State. The game can be seen on FOX Sports 1 starting at 1:30 p.m.
"Our guys felt good about themselves," Rodriguez said Monday. "After 24 hours we had to turn all of our attention to ASU, the big rivalry game. We'll talk about it with our players all week, we will have things on the television all week about the past rivalry games. We will put stuff in the locker rooms. We have about 35 newcomers in our program, and they need to understand the importance of this game.
"This is as intense as any of the ones I have been involved in, and I have been involved in some big ones," he said.
"It is the biggest game on our schedule every year."
Rodriguez said it's too early to know if sophomore quarterback Anu Solomon, who suffered what appeared to be a concussion after a hit to the head late in the Utah victory, will be available to play against the Sun Devils.
"We will give out an injury report on Thursday." Rodriguez said. "He felt good yesterday. The trainers were optimistic yesterday."
Rodriguez said the decision will not be up to the coaching staff or Solomon.
"It's up to the medical experts," he said. "They will always have the student-athlete's welfare on the top of their list. If they tell Anu he can play, then we will let him play."
Rodriguez acknowledged that Arizona and ASU often recruit the same players, but he discounted the importance of Saturday's game as an influence on recruiting. He admitted, however, that he's been frustrated at times with the recruiting challenges. The Wildcats have just one in-state commitment so far for 2016, defensive tackle Justin Holt of Tucson, while ASU has locked up a pair of top-300 recruits in N'Keal Harry and Chase Lucas of Chandler High.
"They won't even take a trip to Tucson," he said. "I think they are shortening themselves an opportunity to take a look at a great university, a great environment and a great atmosphere. Just come on campus, if you don't like it, don't like the atmosphere and don't get the right vibes, then fine. Most of them come down and it's just the opposite, they love it.
"I get frustrated with in-state guys who say, 'I have to go to school X because it makes me look cool.' I think it is pretty cool to play at Arizona myself."