Allen Iverson blesses Kristaps Porzingis: You're doing everything right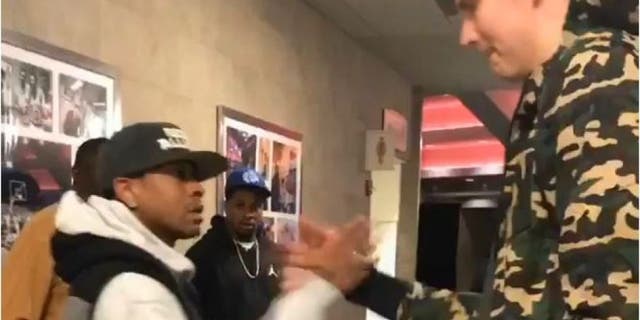 NEWYou can now listen to Fox News articles!
One of the coolest parts of the NBA is watching legends of the past give their blessing to the stars of the future.
After the New York Knicks beat the Chicago Bulls on Thursday night, we were privy to one such moment between Allen Iverson and Kristaps Porzingis:
IVERSON: Man, you're heading in the right direction, man. You're doing everything the right way. I love to see it, bro.
Those are kind words for Iverson, but if you can, really listen to the video above. There's a depth of emotion in AI's voice that's typical for the Answer, yet the way he shares his message with Porzingis is really special.
And we're guessing Porzingis was especially grateful for Iverson's approval, since the Latvian big man rocked this look from the ages of 10 to 13 years old:
While Iverson is hanging out with legendary Knicks big men, maybe he can convince Charles Oakley to participate in Ice Cube's 3-on-3 basketball league. I'd suggest Patrick Ewing, but the Hall of Famer currently works for Michael Jordan as an assistant coach with the Charlotte Hornets. Given that Iverson recently threw some shade Jordan's way, Ewing's probably out of the running.