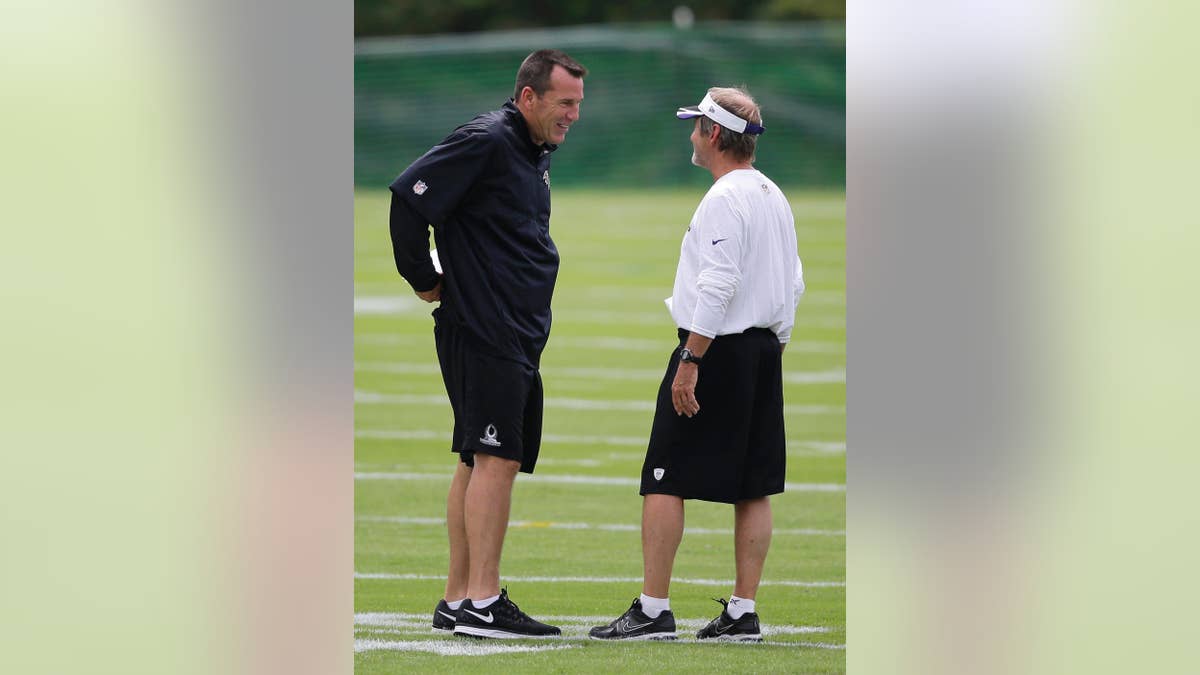 OWINGS MILLS, Md. – The Baltimore Ravens had difficulty running the football last season.
They also allowed 48 sacks and committed 29 turnovers.
New offensive coordinator Gary Kubiak is trying to change all that this year.
Kubiak came to the Ravens after being the head coach of the Houston Texans for eight years. He's installing a system that's a variation of the West Coast offense, which relies heavily on short passing.
He happy with what he's seen so far.
"I've been very impressed," Kubiak said Saturday after the team's first training camp practice in pads. "It's kind of about the third time we're going through our system and teaching it. I think they've adjusted well."
The Ravens had plenty of offensive punch when winning the Super Bowl in 2012 but experienced problems rushing and passing last year under coordinator Jim Caldwell, who left to become head coach of the Detroit Lions. Baltimore last year season ranked 30th in the NFL in rushing (1,361 yards) and were last in yards per carry (3.1).
In addition, the Ravens gave up the fourth-highest number of sacks, which made life tough for quarterback Joe Flacco. Kubiak expects Baltimore to be effective running the ball and predicts a similar degree of success in the passing game because of his new system.
"I think it's something we're going to do very well," Kubiak said. "We're a zone team. We're a rhythmic team (that will) try to do the same thing a lot of different ways. I see our guys responding to it."
The key is for the leaders on offense to make the adjustment, and Kubiak says Flacco, running back Ray Rice and guard Marshal Yanda have done just that.
Flacco said earlier in the week that working with the new offense is a challenge for the team, and that's a good thing.
"I think that always keeps it fresh and exciting," Flacco said. "You can come in here every day and really get better and learn. Everybody has to focus, dial in, and I think it's really going to help us get better."
Kubiak said he will likely stay on the field during games to work with Flacco and will have quarterbacks coach Rick Dennison up in the booth helping out.
Kubiak expects Flacco to carry a heavy load with this new offense, but only if he can remain upright in the pocket.
"Obviously, we've got to cut the sacks a great deal this year," Kubiak said. "That's a big point of emphasis, and the best way to do that is with your quarterback getting rid of the ball. He's responded to that. There's not a play Joe can't make."
___
AP NFL website: www.pro32.ap.org and www.twitter.com/AP_NFL