Aljamain Sterling has the solution to the Dominick Cruz problem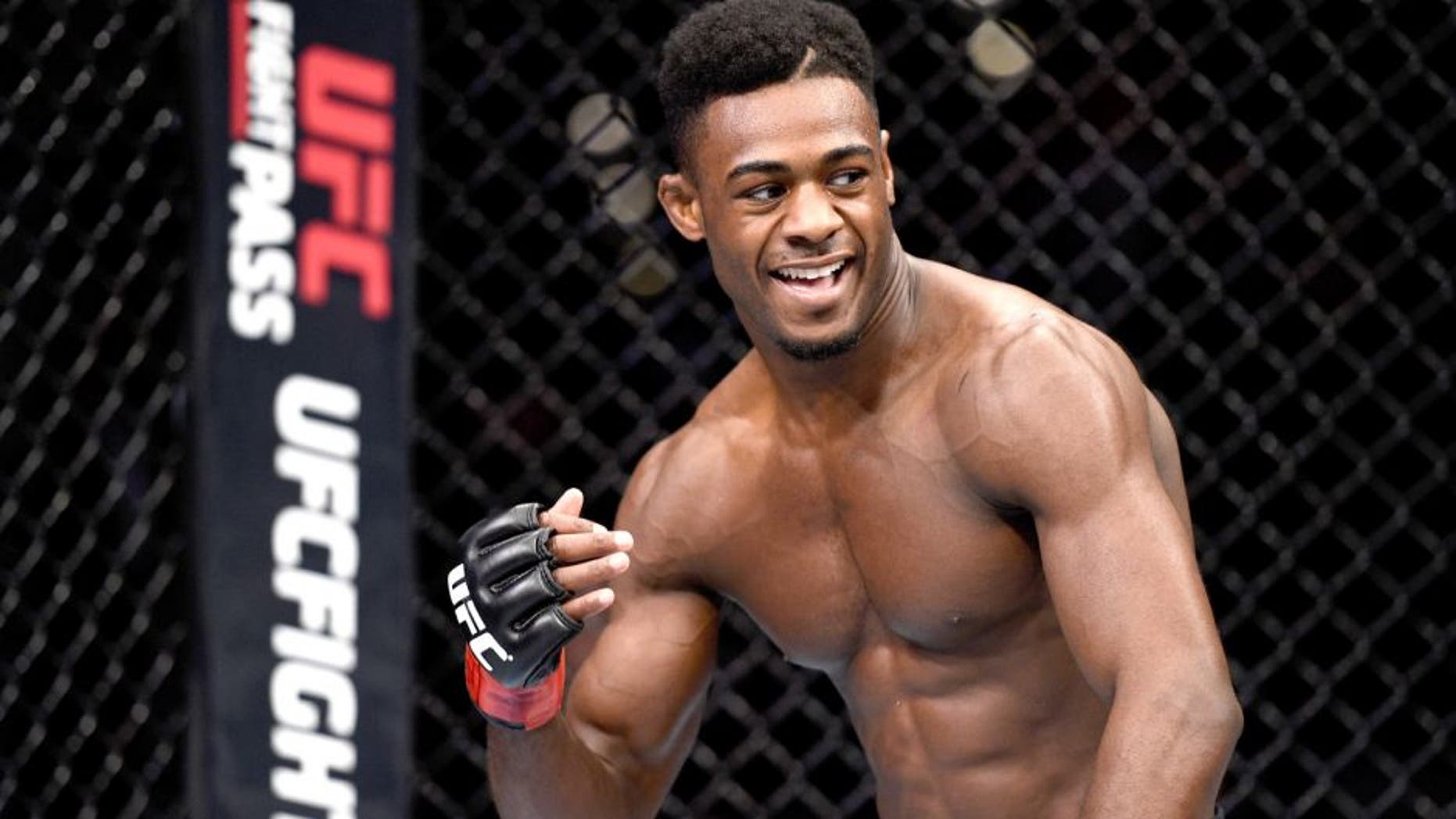 As Aljamain Sterling prepares for his May 29 showdown with Bryan Caraway, he's got both eyes on his opponent but he's still keeping the bantamweight title fight taking place just six days later in his peripheral vision.
Dominick Cruz will look to defend his title against Urijah Faber in the co-main event from Inglewood, Calif. and Sterling plans to sit Octagon side to watch the action unfold.
Sterling is confident he'll dispatch Caraway on Sunday night and then he plans on watching Cruz-Faber with plans to tackle the winner in a title fight in the very near future.
"I think my resume, I think it's at a greater depth than a Cody Garbrandt or a Thomas Almeida in terms of the guys that we've fought. I think I've fought the stiffer competition and I've got finishes to go with that. To me I'm looking at that title fight like I'm the next guy in line next to TJ (Dillashaw) and Raphael Assuncao, depending on how that fight goes and rightfully so," Sterling told FOX Sports.
"If I go out there and put on the performance I know I'm capable of doing, I will be the next guy to challenge for that belt."
As far as who he favors to win, Sterling looks at the incumbent champion as one of the top fighters in the sport over the last decade and somebody he actually admired as he was rising up the ranks as a top contender.
Cruz has suffered through three serious knee injuries as well as a torn groin over the last four years, which greatly diminished his ability to compete again until just recently.
Still, Cruz showed no ill effects of the time off as he defeated TJ Dillashaw in January to win back the bantamweight title and Sterling doesn't believe he'll relinquish the belt to Faber when they meet next weekend.
"I feel like Cruz is going to get it done," Sterling said. "I think Faber is in the best physical shape he's been in, he's looked really motivated to get that rubber match win but for some reason I just think Cruz is going to get that win. He's such a smart fighter and I'm excited for that.
"It's always fun to watch Cruz. That's one of the guys I actually looked up to. So for me to fight that guy, I'm going to be firing on all cylinders just because I always thought that was going to be able to fight and a guy I always said I would beat for the world title."
Throughout his run as bantamweight champion, Cruz has rarely been challenged and on the rare occasions when he was, he still found a way to come out on top.
Cruz has an incredibly tough style to figure out and no one has been able to solve the puzzle since he first won the title by defeating Brian Bowles in 2010.
That's why Sterling loves the idea of matching himself against Cruz with the title on the line. Nothing gets him more excited than a real challenge and he knows he has the solution to the Dominick Cruz problem.
Right now I'm looking at Cruz and I think he's got sick footwork and I think I've got the remedy for that ass. -- Aljamain Sterling
"People haven't figured it out, but I definitely think I've figured it out. When that fight happens, that fight's going to be a fun one because I definitely know what to do to take out Dominick Cruz," Sterling said.
"The way he gave up his back for that one split second against TJ, he gives up the back and sits in that turtle position with me, that's all I need. That would be all she wrote and the human anaconda would be all over him."