Alex Rodriguez denies he's heading to Miami Marlins or any other team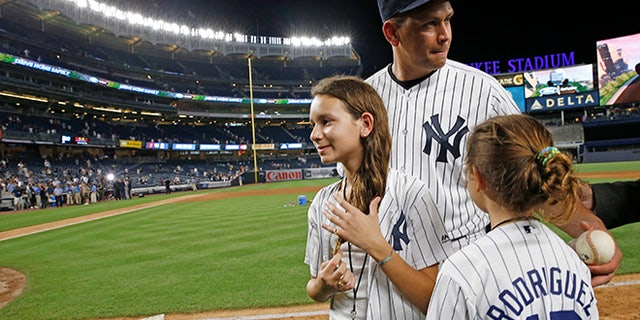 NEWYou can now listen to Fox News articles!
NEW YORK (AP) – Alex Rodriguez says he won't play again this season.
The three-time AL MVP was released Saturday by the New York Yankees, who owed him about $27 million for the rest of his contract, which runs through 2017.
Any team could sign A-Rod for a prorated share of the major league minimum of $507,500, and Rodriguez's hometown Miami Marlins said Sunday they were discussing whether to reach out to the 41-year-old.
Rodriguez spokesman Ron Berkowitz says in a statement Monday: "I want to put all this talk to rest about Alex playing for any team this season."
Berkowitz adds: "It's not happening. Like he said Friday night, he is happy and he is going to take some time to relax and hang with his family and friends."
Yankees manager Joe Girardi said that once Rodriguez left Yankee Stadium, he didn't expect the star to join another team. But, Girardi added Monday night, "nothing that Alex does should ever surprise us."
Like us on Facebook
Follow us on Twitter & Instagram