Albert Pujols smashes 2 homers, takes fastball to head in Angels' win over Rangers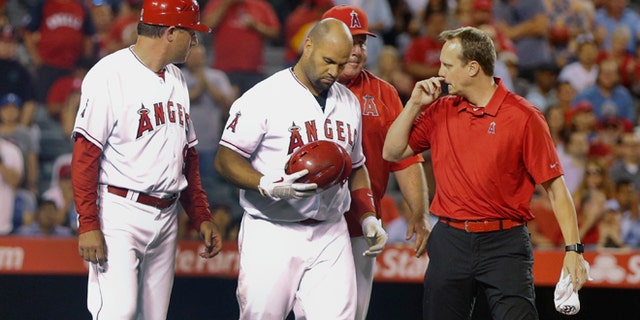 NEWYou can now listen to Fox News articles!
ANAHEIM, Calif. (AP) – The fastball hit Albert Pujols in the side of his batting helmet, glancing off the bill and barely missing his face. The slugger went down in a frightening heap, but eventually dusted himself off and ran the bases.
The Los Angeles Angels are also trying to get up from a rough start to their season, and their veteran slugger is leading with both his example and his potent bat.
Pujols hit a pair of three-run homers in his first six-RBI game since 2009, and the Angels remained unbeaten since the All-Star break with their season-best fifth straight victory, 8-6 over the Texas Rangers on Tuesday night.
Pujols connected in the fourth and fifth innings against Kyle Lohse (0-2) for his second multi-homer game in three days, propelling the Angels (42-52) to their ninth win in 11 games overall.
"I'm starting to swing the bat well now," Pujols said. "Our team needs that in the second half of the season, especially against the guys we're chasing."
Pujols then stayed in the game in the seventh inning when Texas reliever Tony Barnette accidentally hit him in the head with a 92-mph pitch. Barnette was just as concerned as the Angels' training staff, apologizing three times on the field and again between the clubhouses afterward.
"It's a scary thing, hitting a guy in the head," Barnette said. "Especially up and tight like that, it can do some damage. I've got a family, he's got family, and it can be scary stuff for them. I'm glad he's OK."
Pujols shrugged it off.
"I'm pretty sure that's the last thing that he wants to do on an 0-2 count, but it's one of those things that happens in a game," Pujols said. "I just told him, 'It happens. It's baseball.'"
Pujols' homers were the 578th and 579th of his career, pulling him closer to Mark McGwire (583) for 10th place on baseball's career list. He has 11 RBIs in the last three days.
"You always worry about a concussion, but he felt fine and he was laughing," Angels manager Mike Scioscia said of Pujols. "He's quietly having another incredible season."
Jett Bandy also homered and drove in two runs for Los Angeles.
One night after the Angels came back from four runs down to beat Texas, they erased an early three-run deficit in the fourth inning with one swing from Pujols.
After Elvis Andrus doubled home the go-ahead run for Texas in the fifth, Pujols put the Angels back ahead with another three-run shot, completing the 54th multi-homer game of his career after the Rangers walked Mike Trout to get to him.
"Well, Trout is the best hitter in the league," Texas manager Jeff Banister said. "We're not going to let him beat us. ... Lohse hung the slider. We're trying to execute a pitch out of the strike zone for a chase, and that's where you trust a veteran of 16 years to make a pitch."
Lohse yielded six hits and seven runs in his second start for Texas.
Robinson Chirinos hit two early homers for the AL West-leading Rangers, who have lost six of seven. Ian Desmond hit a 462-foot homer, had three hits and reached base four times for the struggling Rangers.