Al Iaquinta not sure about his future in fighting following knockout win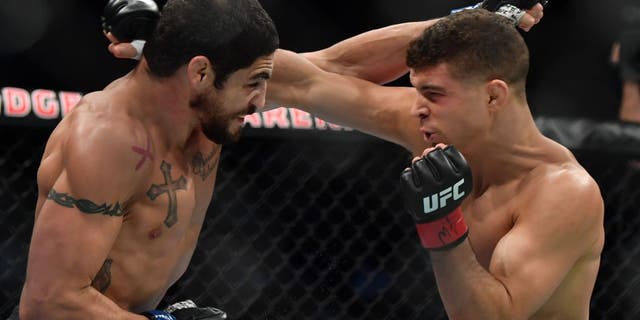 NEWYou can now listen to Fox News articles!
One fight and a big first round knockout over Diego Sanchez on Saturday night didn't fix all the problems Al Iaquinta had with the UFC and if anything his grievances may have just compounded when he missed out on a bonus for her performance.
Iaquinta returned after two years away to make short work of Sanchez, which marked his fifth win in a row overall in the lightweight division.
Injuries played a part in Iaquinta's absence for so long, but more recently he's expressed his displeasure with the UFC due to the pay on his current contract, the lack of sponsorships he's now able to keep in light of the Reebook outfitting policy not to mention that he was barred from winning a post fight bonus as punishment for several incidents that occurred both inside and outside the Octagon.
When Iaquinta heard about the bonuses selected for the fight card in Nashville he ripped the UFC with a pair of expletive filled messages on Twitter.
In addition to those tweets, Iaquinta expressed his unhappiness with the UFC following his win where he stated that without some dramatic changes going forward, he may not fight again.
"I love fighting but I'm not going to ruin my body. This is no game. This is for real," Iaquinta explained. "Like $26 [K] and $26 [K] is not a lot of money. Doing what I'm doing, for being on TV, for me driving the car I'm driving, I've got to be living a lot better than this. I could be doing anything in the world making the same amount of money and I don't have the risk of being hurt.
"I don't need to fight now. I have my real estate career. I'm set with that. If I want to fight, I'll fight. I love to fight. That's where I'm at right now."
During his time away from the sport, Iaquinta did start his own real estate company and it appears he's doing well enough with that financially that fighting no longer provides him with his sole source of income.
Add to that, Iaquinta's issues with the UFC didn't go away just because he won a fight and it sounds like he's not expecting things to get much better any time soon.
"I don't know if it's worth it. I don't know if the money's worth everything I go through to do this," Iaquinta said. "It worked out tonight, but it's not going to be that easy. I've got to think if it's worth it. I've got a lot of injuries. It's like a lot of years lost that I'm not making any money. Now I'm not getting sponsorship. I'm in a video game and I haven't gotten a dollar from it and I don't even have an Xbox and they haven't sent me a video game. There's a lot of things. There's no fighter's association and you can't even ask the question cause they go right around it.
"There's a lot of things I don't like. I just love fighting. So that's what that was all about."
WPPROD
In a perfect world, Iaquinta would like to get booked for the upcoming FOX UFC Fight Night card headed to his home in Long Island, New York in July.
Unfortunately, Iaquinta says based on what he's being paid on his current contract there's just no way he's going to accept a matchup at that event no matter how much it would mean for him to finally compete at home.
"Nassau Coliseum would be awesome, that would be something I'd love to do but I'm not going to do it for the contract I have now, probably not," Iaquinta said. "These guys are dangerous. I'm not going in there to get paid what I'm getting paid. If I'm out for two years, where am I making any money? I've got no sponsors. There's nothing.
"These last two years have been a wake up call for me. I enjoy fighting but we'll see."
Zuffa LLC via Getty Images | Jeff Bottari/Zuffa LLC