After 3-team trade in July, Red Sox RHP Jake Peavy set to face Tigers in Game 4 of ALCS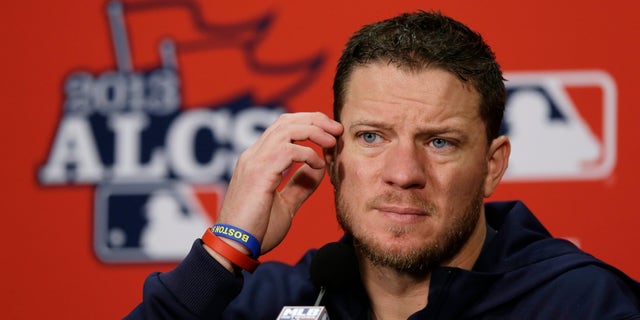 NEWYou can now listen to Fox News articles!
When the Detroit Tigers try to pull even in the AL championship series Wednesday night, they will be facing a pitcher they helped Boston acquire in a three-team trade less than three months ago.
Jake Peavy is set to start Game 4 for the Red Sox against right-hander Doug Fister.
"I can't tell you how excited I am," Peavy said Tuesday before Boston's 1-0 victory in Game 3. "But at the same time, all that excitement and adrenaline will be channeled in the right direction as it was four or five days ago in Tampa."
Peavy, the 2007 NL Cy Young Award winner, helped the Red Sox eliminate the Rays last week by allowing one run and five hits in 5 2-3 innings of Game 4 in their division series.
Boston acquired Peavy in late July from the Chicago White and gave up rookie Jose Iglesias to Detroit, which needed a shortstop because Jhonny Peralta was about to be suspended as part of baseball's Biogenesis drug investigation.
Peavy is thrilled he ended up with the contending Red Sox after playing for the rebuilding White Sox.
"That was the exciting part about getting traded," Peavy said. "It was obviously hard to leave a place I loved and had so many friendships and relationships with in Chicago."
Detroit dealt prized prospect Avisail Garcia, an outfielder, to Chicago as part of the deal. It was a potential long-term loss for a short- and long-term gain to add Iglesias.
"It's a great baseball trade because it clearly had specific needs and fit for the three teams involved," Red Sox manager John Farrell said. "You have to give up a quality player to get a quality player in return. Having been around Iggy when he first signed here a number of years ago and to see how he's matured and the way he played for us, it was hard to see him go. You don't see that kind of defender come along very often. He's a magician with the glove."
Iglesias, though, has struggled at the plate. The 23-year-old Cuban had a .133 postseason batting average entering Game 3, and that led to Peralta starting at shortstop for a second straight game Tuesday.
___
REPEAT OPPONENT: Joe Kelly will be making his second start against the Los Angeles Dodgers in Game 5 of the NL championship series Wednesday afternoon.
The St. Louis Cardinals' right-hander acknowledged that facing the same team in consecutive starts does take a bit of an adjustment, but it's also something he's been good at so far in his young career.
"Obviously, they know what I've got, and I know what they've got," Kelly said. "It's just going to be about executing pitches, ultimately."
Kelly faced Pittsburgh on Sept. 1 and Sept. 6, winning both games. Against the Chicago Cubs on Aug. 11 and Aug. 17, he came away without a decision in the first game but won the second.
"I'm not going to go out there and try to be a different kind of pitcher," he said. "When you make good pitches, ultimately you'll be more successful than not."
Kelly was the starter in Friday night's series opener at St. Louis, where he held the Dodgers to two runs in six innings. The Cardinals eventually won that game in 13 innings.
___
SECOND TIME AROUND: Zack Greinke has gone more than a year without facing the same team twice in a row. That will change in Game 5 of the NLCS.
Greinke is set to pitch for the Los Angeles Dodgers on Wednesday against St. Louis, marking the first time he will make consecutive starts against one opponent since July 7-8, 2012, when he pitched for the Milwaukee Brewers at Houston.
On that occasion, Greinke was ejected four pitches into his regularly scheduled start by first base umpire Sam Holbrook after spiking the ball following a close play at the bag. Greinke was brought back the next day by manager Ron Roenicke and gave up three runs on five hits through three innings before giving way to Marco Estrada, originally scheduled to start that game.
The last time Greinke faced the same team in back-to-back scheduled starts was the 2011 NLCS, also against the Cardinals. He beat them 9-6 in Game 1 despite allowing six runs in six-plus innings, then lost 7-1 in Game 5 after going 5 2-3 innings and giving up five runs — three unearned.
"A lot of times you have like one good start and one bad start," Greinke said. "If you do good the first start, they're going to make an adjustment. So you've got to be faster than them at it."
In the Dodgers' series-opening 3-2 loss last Friday in St. Louis, Greinke allowed two runs and four hits over eight innings. He struck out 10 in a no-decision.
He'll again be matched up against Joe Kelly, who also ended up with a no-decision after giving up two runs and six hits through six innings in his second career postseason start.
"I just faced the Dodgers, so that experience of seeing how these guys approach me is going to help," said Kelly, who was born down the freeway in Anaheim and played high school and college ball in Southern California.