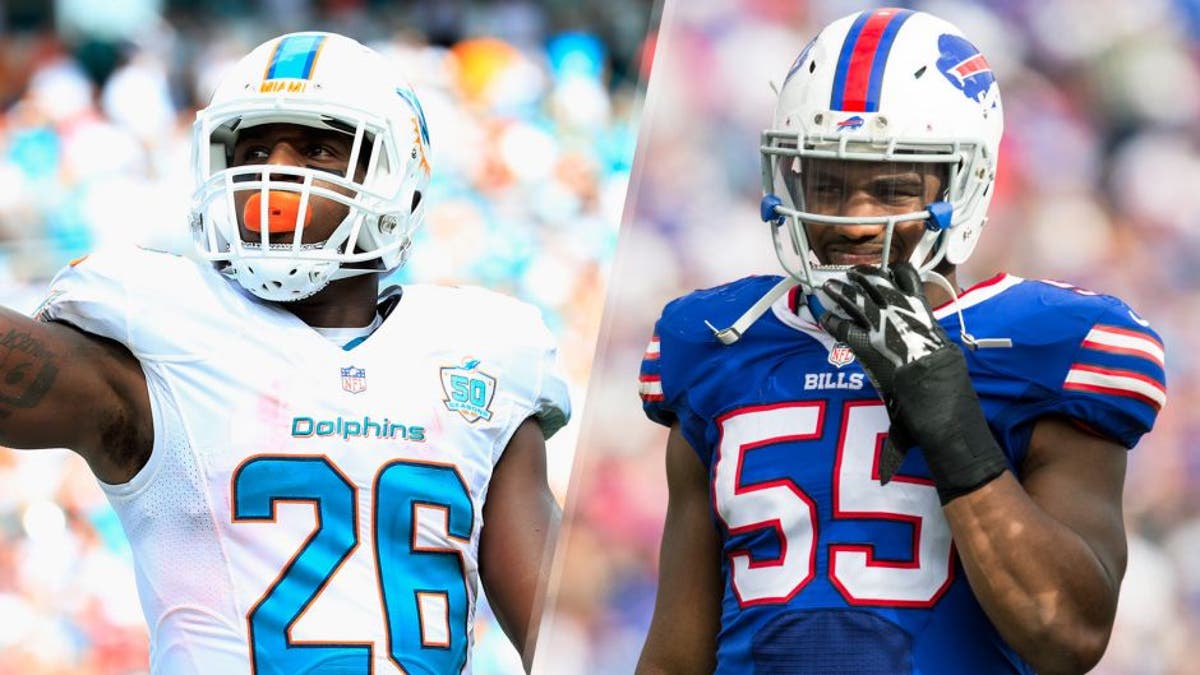 The NFL regular season is more volatile on a week-to-week basis than the Stock Market. A team that lost by several touchdowns the week before can follow up with a blowout victory. Players who are responsible for the blame one week could be responsible for a game-winning play the next.
With Week 7 of the regular season in the books, let's take a look at three AFC East players who saw their stock rise, and three AFC East players who saw it fall as we head into Week 8.
THREE UP
Lamar Miller, running back, Miami Dolphins
Over his past two games, Lamar Miller has piled up 354 yards from scrimmage, and that's without touching the ball in the second half last week. He's been the biggest beneficiary since Dan Campbell took over as head coach, and there's no reason to believe he won't continue to run the ball well against the New England Patriots in Week 8. There's arguably no running back hotter than Miller at this point.
Tom Brady, quarterback, New England Patriots
Tom Brady has played well all season, but his performance against the New York Jets was quite possibly his best of the year. Even with his receivers dropping nine passes, Brady still threw for 355 yards and two touchdowns against one of the top defenses in the league. Additionally, he led the team in rushing for the first time in his career, accounting for all but one yard of the Patriots' total offense.
Ryan Tannehill, quarterback, Miami Dolphins
On Sunday, Ryan Tannehill set a new NFL record with 25 consecutive completions, going back to his previous game. He completed his first 18 passes and ended the game with 282 yards and four touchdowns, while he didn't toss an interception. After throwing seven picks in his previous three games, Tannehill looked sharp in leading the Dolphins to their third win in Week 7.
THREE DOWN
Jerry Hughes, defensive end, Buffalo Bills
Much like the rest of the Bills' defense, Jerry Hughes has struggled of late. For the fifth straight game, Hughes was held without a sack and has just one in 2015. He hasn't looked like the same player that recorded 10 sacks in each of the past two seasons and he needs to get on track if the Bills hope to salvage their season. He'll get his next chance at bringing down the quarterback in two weeks as the Bills are currently on their bye.
LeGarrette Blount, running back, New England Patriots
After rushing for more than 70 yards in each of his previous three games, Blount was a non-factor in Sunday's win over the Jets. He carried the ball just three times for minus-3 yards as the Patriots abandoned the run without Dion Lewis healthy. If Lewis returns this week, Blount could find himself with another week of limited carries, though Bill Belichick is always unpredictable with his use of running backs.
Malcolm Butler, cornerback, New England Patriots
Malcolm Butler is known for his Super Bowl-winning interception, but he's developed into one of New England's best cornerbacks on a weekly basis. On Sunday, though, he was exposed by Eric Decker. He allowed five completions on nine targets for 82 yards and was flagged three times in coverage. Decker consistently beat Butler with crossing routes and was unable to match up against the bigger wide receiver.
MORE NEWS: Want stories delivered to you? Sign up for our NFL newsletters.