AD Foley, McElwain speak about the legacy of Spurrier at Florida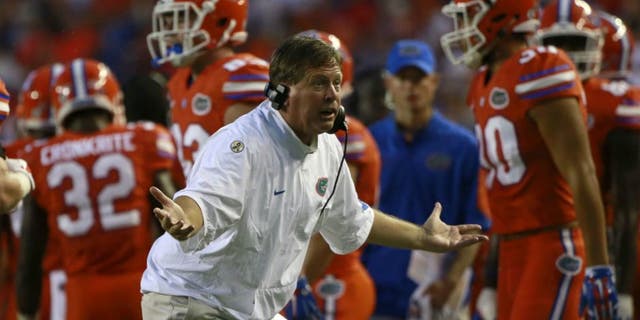 Steve Spurrier is a well-liked and revered figure in the sporting world, especially at Florida.
"The Ol' Ball Coach" won a national championship in Gainesville, and completely revolutionized the program with his offensive scheme.
Current Athletic Director Jeremy Foley came to Florida in 1976, and thus has had a long-standing relationship with Spurrier. On Tuesday, he spoke about his former head coach.
"He changed the culture of this place," said Foley. "When I first game here in 1976, all anybody wanted to do was to win one Southeastern Conference Championship. Obviously, he produced the first national championship and he did it the right way. He made this place a winner."
Current head coach Jim McElwain also has considerable admiration for the former Florida coach. As being part of the college football coaching fraternity, McElwain recognizes Spurrier's brilliance.
"First and foremost, let's celebrate what this guy's all about and what he's all done," said McElwain. "Not only with the game of football but with the impact he's had in so many young guys' lives along the way."
The Gators' current head coach got to know Spurrier on a personal level, and it's something McElwain will always treasure.
"I'm just some kid from Montana who was trying to learn as much as I could. I will cherish the time we had sitting together while flying on an airplane over to Bristol, Conn. for the SEC Media Days. There were two and a half hours there and back for me. It was something special."
While Foley and Spurrier haven't worked together for quite some time, he also regards Spurrier as a unique person in his own personal life.
"You are going to miss one of the most unique personalities in the game. A true winner and a class guy and we are proud to call him a Gator and I am proud to call him my friend."