ACC notebook: Cook overcomes offseason woes to get rushing record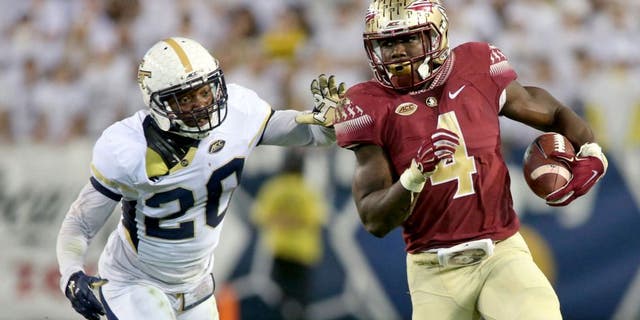 NEWYou can now listen to Fox News articles!
Florida State running back Dalvin Cook. Jason Getz USA TODAY Sports
The greatest season turned in by a Florida State running back began with one of the worst preseasons a Seminole could imagine.
It wasn't too long ago that everyone wondered if Dalvin Cook would play this year. Facing misdemeanor battery charges after allegations arose that the 20-year sophomore old struck a women outside of a bar one night in June, Cook was forced to the sideline this summer after being suspended indefinitely from the team.
The star running back's status was so uncertain FSU had to take two team pictures: one with Cook and one without.
It wasn't until the Seminoles were days away from their season opener with Texas State that Cook was found not guilty of the charges and reinstated.
"I'm just thankful and blessed that the truth came out," Cook said at the time.
FSU head coach Jimbo Fisher and Co. were pretty thankful too. On Saturday, Cook set the school's single-season rushing record -- with two regular season games left on the schedule and despite missing large chunks of snaps due to injuries.
The 6-0, 203-pounder entered the game with N.C. State 12 yards shy of passing Warrick Dunn's mark of 1,242 yards set in 1995, and broke it when he took his fourth carry of the game 13 yards for a touchdown.
"It means a lot," Cook said. "This wasn't something I set for myself when I got here. The time is now. Warrick came and told me during the game, 'The record is there to be broken.' And I broke it."
Cook, who is currently the sixth-leading rusher in the nation with 1,369 yards, finished the game grinding out 138 yards and two touchdowns on 22 attempts to lead No. 16 FSU to a 34-17 victory, all to Dunn's delight.
"I love to watch him play," Dunn told the Palm Beach Post. "He's attacking. We're two different types of runners. But he's more downhill. He's patient. And he's explosive. He's really just taking what the defense gives him. But he shows a lot of ability. You want to see if a guy can continue on that pace. We're running him a lot."
Scoring's as easy as 1-2-3 for UNC
The red-hot Tar Heels offensive onslaught continued as North Carolina blew past Miami, 59-21. The win was the ninth straight for No. 23 UNC (9-1, 6-0), whose 125 points in the last two games are the most in school history.
"This team's playing as a team," UNC head coach Larry Fedora said. "Everybody's there to pick each other up ... they're doing the things that a team does. And this is a damn good football team."
One week after Marquise Williams led the Heels to a 66-31 win over Duke by racking up a UNC-record 494 passing yards and five touchdowns, the dual-threat QB was back at it again. Against Miami, Williams rushed 12 times for 101 yards and three touchdowns, while throwing for 105 yards and a score before backup Mitch Trubisky came in for mop up duty.
"I think it says a lot about not just the older guys but the younger guys, to not get caught up in success and know we've got to keep consistently bringing it the same way we have every week," senior offensive guard Landon Turner said. "Because nothing should change."
Star running back Elijah Hood continued to power his way through defenses as he churned out a game-high 132 rushing yard and a score on 17 carries.
The scoring wasn't limited to the offense. Special teams standout Ryan Switzer busted through the Hurricanes defense for a 78-yard punt return touchdown. The TD return was the seventh of his career, placing him one shy of tying the NCAA record for most career returns.
North Carolina now needs to win one of its remaining two games to clinch the Coastal Division title.
Let's all go streaking
It's been an icy-hot season in the ACC as it seems like about everybody is streaking in one direction or the other.
Last Saturday, No. 1 Clemson won its 10th game in a row when it topped Syracuse, 37-27, to hand the Orange its seventh straight loss.
Louisville, who began the season with three straight losses, has since righted the ship and has ripped off four straight victories. The last one, a 38-31 win over Virginia, allowed the 6-4 Cardinals to clinch bowl eligibility.
No. 23 North Carolina blew past Miami, 59-21, to extend its winning streak to nine. Meanwhile, Duke is yet to recover from its controversial loss to the Hurricanes, and fell 31-13 to Pitt for its third straight loss.
Wake Forest can relate. The Demon Deacons were hammered by No. 4 Notre Dame, 28-7, for their fourth straight defeat. The Fighting Irish figure to extend another ACC team's losing streak Saturday when they face a Boston College team that's hasn't won a game in its past six attempts.