A look at Brady's 5 Super Bowl wins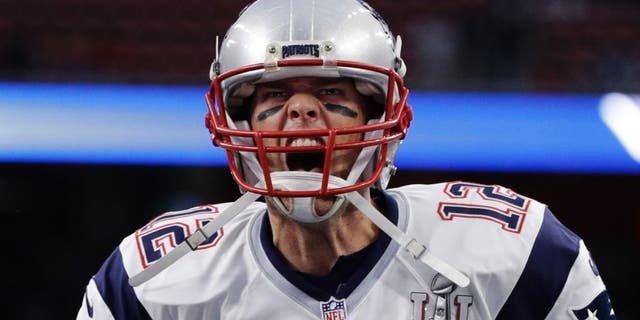 HOUSTON (AP) -- With a record five Super Bowl rings, Tom Brady certainly has established himself as the measuring stick for quarterbacks, NFL players and, just maybe, for all team-sport athletes.
The difference in the Patriots being 5-2 or even 0-7 in the big game is infinitesimal. That difference is the guy wearing No. 12.
Brady proved that again Sunday with an epic comeback that, at 39, some might think puts a capper on a Hall of Fame career. Except that he plans to return to at work soon preparing for another NFL season, with probably a few more to follow.
"I don't feel 39. I hang out with a bunch of 20-year-olds," he joked Monday morning before walking out of the Super Bowl MVP news conference with the silver football that serves as the award for the honor. "That makes you feel pretty young."
That Brady might be around for a while could make the rest of the NFL feel pretty down, and at least when it comes to the playoffs and Super Bowl, it should. Consider that he's won 25 postseason games; there are pro baseball, basketball and hockey players who would take that for a career.
Brady will be remembered most not for deflated footballs but for the way he has pumped up the Patriots in the most stress-filled circumstances. Sunday's 34-28 win over Atlanta in the first Super Bowl to go to overtime is the latest, and perhaps the most emphatic, example. But it's educational to look at all seven of his performances in the NFL championship game.
And you can compare his work to that of New England's coaching staff, which, it can be argued, has not come through nearly as well over the course of those seven contests and five titles.
-- When the Patriots edged the favored Rams 20-17 in the 2002 Super Bowl, that was Bill Belichick and his staff's most impressive showing. Spurred on by cornerback Ty Law insisting he could cover St. Louis game-breaking receiver Isaac Bruce alone, New England came up with a super-aggressive, hit-'em-at-all-costs coverage scheme that derailed the Greatest Show on Turf.
Yet, Kurt Warner and the Rams found a way to tie the game in the final minutes. That's when Brady, in just his second pro season and first as a starter, led his team to Adam Vinatieri's winning field goal. It was the first major sign that Brady in the clutch was something special, and he won his first Super Bowl MVP.
-- In New England's victories over the Panthers and the Eagles, both by three points, the Patriots benefited from key mistakes by the opposition. After Carolina tied the score 29-29 in 2004, John Kasey's kickoff went out of bounds. Soon, Brady had the Patriots in position for another Vinatieri winner.
Oh yeah, he was MVP for that game, too.
Philadelphia melted down in the final quarter of the 2005 match. But there's a case to be made that both the Panthers' John Fox and the Eagles' Andy Reid were at least Belichick's equal until Brady turned things New England's way.
-- The two upset defeats at the hands of the Giants, particularly in 2008 when the Patriots were seeking an undefeated season, could have gone New England's way, of course. But Tom Coughlin and his assistants, particularly defensive coordinator Steve Spagnuolo in `08, outwitted the Patriots. The only way to beat Brady is to make him uncomfortable with pressure, forcing him to throw from awkward spots or before he wants to.
Atlanta did a nice job of that for almost three full quarters this time. New York managed it pretty much from beginning to end.
-- The most unfathomable of New England's five titles have been the last two.
When Brady took charge against Seattle's superb defense in 2015, the fourth quarter belonged to him as he grabbed another MVP award. But if not for what many believe is the worst play call in NFL championship game history -- no, Marshawn, we're going to throw from the Patriots 1-yard line -- Pete Carroll's Seahawks would likely have won a second straight Super Bowl.
Then there is Sunday night's "miraculous" comeback, to use Brady's word. And the stunning collapse by Atlanta, which had a first down at the New England 22 and a chance to, at the very least, move an 8-point lead to 11 late in the fourth period. It's almost never wise to play for a field goal against Brady, but that was one time to do so. The Falcons didn't.
So Brady, helped by a stunning reception by Julian Edelman, guided the Patriots to the tying scores. And then to the winning TD in overtime.
No one is saying the Patriots didn't earn each of their Super Bowl wins -- and losses. It's an absolute, however, that when praise for everyone in the organization is handed out, Brady must be far in front of the rest of the line.