7 takeaways from Day 2 of the media tour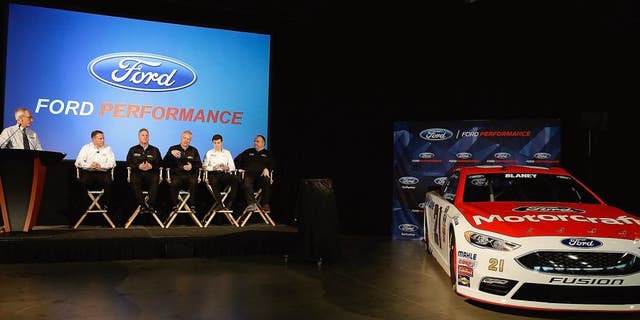 Wednesday was all about Ford Motor Co. and the Ford NASCAR Sprint Cup Series teams.
Following are seven things we learned on the second day of the Charlotte Media Tour presented by Technocomm.
7. Back on the deal -- The Wood Brothers are thrilled that this year marks the first time since 2008 that their team will run a full-time Cup schedule. And with driver Ryan Blaney, crew chief Jeremy Bullins and technical support from Team Penske, they could do very well indeed.
"It never felt right," said team co-owner Eddie Wood of missing races. "It just felt like you were supposed to be doing something else. You're just not supposed to be at home when everybody else is racing, so this is just a great opportunity for us."
6. Follow the money -- Richard Petty Motorsports is in the best shape it's been in in years, at least financially. All of the sponsors on Aric Almirola's No. 43 RPM Ford have renewed for 2016, including Smithfield, which has increased its commitment from 29 to 31 races. And new driver Brian Scott brings sponsorship money from Albertson's and Shore Line Lodge to the table.
5. Joey Logano is hungry for a title -- Last year, Logano won a series-high six Sprint Cup races, but not the championship. This year, he wants to seal the deal. "We want to win trophies for Roger (Penske, team owner) and win a championship," said Logano. "Anything less than that we don't consider it success."
4. Brad Keselowski is still funny -- In 2010, Keselowski started racing full time for Team Penske, which this year is celebrating its 50th anniversary. Keselowski gave team owner Roger Penske a historic first in 2012, when he won the first Cup title for Team Penske.
Here's how Keselowski described it: "I think for me, looking at Team Penske and 50 years, I came in six years ago. This will be my seventh year. I came in year 43 and there are not many firsts left at that point. It is like being married 43 or 44 years. There aren't many firsts left."
3. Front Row Motorsports could improve a lot -- Yes, Front Row is a comparatively small, low-budget team. But they've made some bold moves, signing a technical alliance with Roush Fenway Racing and hiring reigning XFINITY Series champ Chris Buescher and Landon Cassill to drive for the team.
2. Ford really wants to win -- After a humbling 2015 season Ford Performance has upped its commitment level to get the Wood Brothers Racing team back to full time. Ford officials also spent a lot of time trying to help Jack Roush fix the woes that have plagued his team in recent years.
"I think we are already seeing what this organization can do and we are still in our infancy," said Dave Pericak, Director, Ford Performance. "I am looking forward to accelerating that this year."
1. Old guys rule -- Roger Penske is a 78-year-old billionaire who said he'll be at the races every week until he can't stand up. NASCAR Hall of Fame member Leonard Wood is 81 and still shows up at work every day and goes to all the races, too. That's pretty cool.