4 points between Mercedes' Rosberg and Hamilton: 5 things to know before the German Grand Prix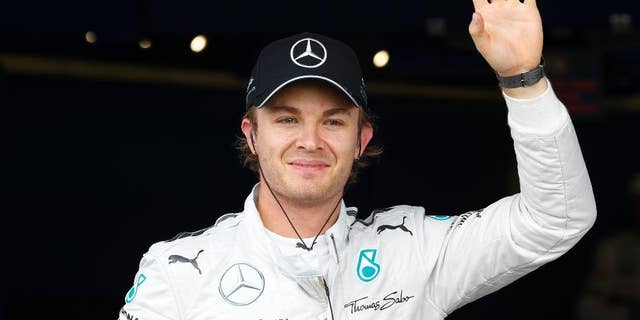 HOCKENHEIM, Germany – The 10th round of the Formula 1 season takes place at the Hockenheimring on Sunday. It's the 61st German Grand Prix, the 34th at Hockenheim. Ferrari has the most wins at 21 but finds itself third in the constructors' championship behind Red Bull and runaway leader Mercedes. Here are five things to know ahead of the weekend's practice sessions:
MID-SEASON GAME CHANGER?
The FIA's technical directive that FRIC (front and rear interconnected suspension) used on most cars might be illegal has thrown a spanner in the works for most teams ahead of the German Grand Prix.
The suspension systems, used to generate more underbody downforce for more control at speed and when braking, have been implemented to varying degrees by different teams, meaning some benefit from FRIC more than others.
The FIA indicated that it would tolerate its use for the rest of the season if all manufacturers agreed to a ban delay until 2015, but unanimous agreement was always likely to be a tall order.
McLaren, Red Bull, Force India and Caterham have indicated they won't be racing with FRIC at Hockenheim, while runaway championship leader Mercedes, Williams, Lotus and Marussia are reportedly eager to keep it.
They run the risk of docked points if they use FRIC and another team protests.
THE TRACK
Hockenheim was built in 1932, a 6.7-kilometer track on which Mercedes-Benz tested its road and racing cars. A stadium section was added after World War 2 and chicanes were added in 1968 following world champion Jim Clark's death in a Formula 2 race.
It became part of the Formula 1 calendar in 1970 and remained largely unchanged. It has hosted the German Grand Prix on a biennial basis since 2007, sharing with the Nurburgring.
The Hockenheimring was re-profiled after the 2001 Grand Prix - it's now 2.3 kilometers shorter at 4.574 kilometers (2.842 miles), the average speed is significantly lower and the asphalt is very smooth.
"The redesigned circuit could never be as mighty as the old Hockenheim but it's a fun little track and it's been purposely designed to encourage racing," said McLaren's Jenson Button, who finished second on his previous visit in 2012.
"It's a race that often throws up a surprise of two so I'm looking forward to the weekend."
Qualifying is important. Nobody has won from outside the top three since the track was re-profiled.
MERCEDES' INTERNAL RIVALRY
Mercedes' dominance means it is running away with the constructors' championship - after nine races the team leads with 326 points ahead of Red Bull on 168. Either Nico Rosberg or Lewis Hamilton have claimed victory in every race so far, with the exception of the Canadian Grand Prix, where Red Bull's Daniel Ricciardo notched his maiden win.
But the fact that Rosberg and Hamilton will fight out the driver's championship has stoked rivalry inside the team.
Rosberg, who signed a contract extension Monday before his home Grand Prix, now leads the drivers' championship by just four points from his teammate, who is keen to add to his 2008 championship win.
"I feel like I've been on the back foot all year, only briefly leading the championship despite taking the wins I've had (four not including Silverstone), so to have got myself just about level was exactly what I needed," Hamilton said.
"It's going to be a really close battle between us."
Mercedes non-executive chairman Niki Lauda said the team will leave its drivers to compete among themselves.
"We will not interfere. This is very important," the three-time world champion said. "We didn't interfere from the beginning, so why should we now?"
GEARBOX FIXED
Rosberg shouldn't face any of the gearbox problems that forced his withdrawal from the British Grand Prix on lap 29 for his first non-fish of the season.
Mercedes technical chief Paddy Lowe said the team's main focus following Silverstone had been to identify the problem "and to make sure there is no recurrence moving forwards."
Lowe said, "a lot of work has been put into rectifying the issue and we head to Hockenheim with a remedy in place."
Mercedes has also worked on other upgrades evaluated in the previous race and Lowe said he expected "both improved performance and a more robust package from a reliability perspective."
RED BULL STUTTERING
Red Bull's encouraging 1-3 finish at the Canadian Grand Prix was followed by 8-DNF in Austria and then 3-5 at Silverstone. The team has won all eight F1 drivers' and team's championships across 2010 to 2013 but Mercedes appears in a class of its own this year.
It's been a sobering campaign for Sebastian Vettel, the all-conquering champion of the past four seasons, who has failed to finish a third of the races so far.
"We have tried lots of stuff to improve, but (Mercedes) are doing the same thing," the German said. "We are waiting for bigger steps to happen to close the gap even more which at the end of the season we can judge a lot better - then we know what we can do over the winter."
Vettel, who won on home soil for the first time last year, is aiming for a top three finish on Sunday.