Wind Farms Could Power all of U.K.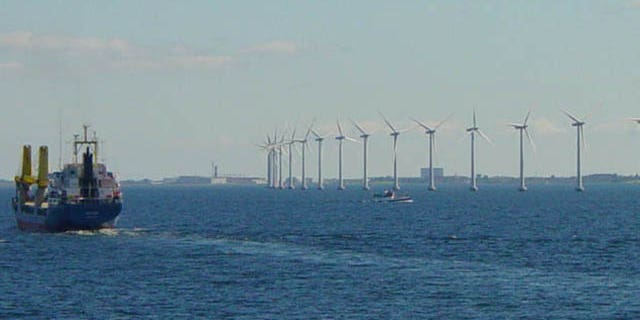 NEWYou can now listen to Fox News articles!
A series of companies were issued permits by the British government Friday to develop offshore wind farms that will generate enough power to supply every home in the U.K.
RWE, Statoil and Centrica were among companies granted licenses to participate in Britain's $120 billion energy program. Scottish & Southern Energy, Iberdrola's Scottish Power and Vattenfall will also proceed with development.
The new farms will generate 25GW of energy, enough to power 19 million homes. This is in addition to the 8GW the U.K., the world's largest generator of wind power, already produces.
A number of potential projects in U.K. waters could bring Britain's total offshore wind capacity to more than 40GW.
Nine areas fit the licensing criteria based on water depth, wind levels and location.
The zones include sites in the Irish Sea, English Channel and various locations in Scotland. Construction could begin by 2013.
The expansion of offshore wind energy is part of a $160 billion strategy to boost renewable power and cut greenhouse gas emissions to tackle climate change.
According to the British government, offshore wind has the potential to meet more than a quarter of the country's electricity needs, provide the U.K. with up to 70,000 new jobs and generate $12 billion a year in revenue.
But it requires a major increase in manufacturing capacity, including greater production of turbines, offshore electrical systems and installation vessels.
There are fears the manufacturing base will be outsourced abroad to meet the increased demand more cheaply.
Ahead of the announcement, Greenpeace's executive director John Sauven urged the government to make sure the jobs created were filled by British workers.
"Train and equip Britain's workforce to ensure that the thousands of jobs that will be created are filled by British workers, and provide the economic certainty investors need to complete these projects on time and on budget," he said.
Steve Remp, chairman of SeaEnergy, one of the companies seeking to develop offshore wind farms, said thousands of turbines the size of the landmark London Eye could soon be supplying as much as 30 percent of Britain's electricity needs.
"It is realistic," he said.
"We are talking about building 9,000 turbines. It is a colossal undertaking. It is another North Sea oil industry in the making."