Tornado in Virginia cracks open tree filled with 70,000 bees: 'It was a catastrophic situation'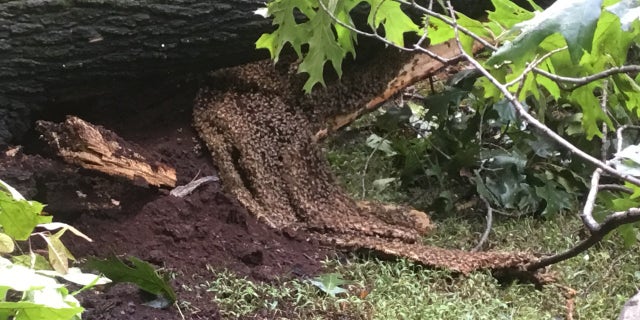 Faculty at the University of Richmond are being credited for rescuing nearly 70,000 bees after a tornado on Monday took down a tree near the school's campus.
University facilities, who were called to remove the tree, found an unusual surprise upon arrival: thousands of bees were swarming the area. The tree, which had "rotted in the middle," was "full of bees. Lots of bees," Karla Connelly, an administrative assistant in facilities, said this week in a media release.
THOUSANDS OF BEES SWARM TEXAS WALMART STORE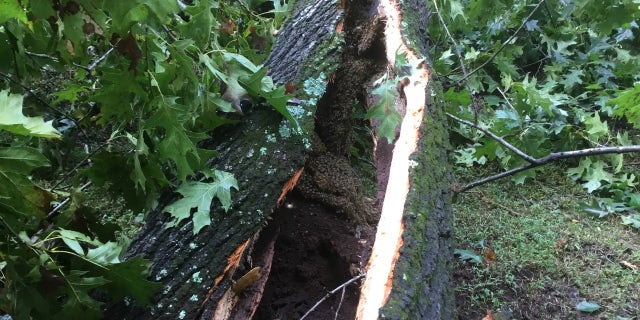 That's when Kirstin Berben, a campus beekeeper and laboratories manager in the university's biology department, was called to the scene. Berben said in the release the situation was a "catastrophic situation for the bee colony inside." She estimated 70,000 bees were living inside the tree based on the amount of honeycomb.
Then, Berben and David Rodriquez, an electrician at the university, along with Karen Williams, a landscape manager, "suited up and got to work."
The trio then "started picking up the comb and transferring clusters of bees into a large storage bin," Berben said, adding there was a large cluster of comb which likely included the queen.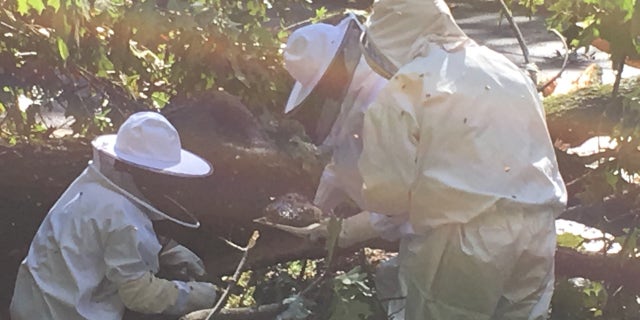 "So we focused on that," she added.
FLORENCE FLOODWATERS RESULT IN 'ISLANDS' OF FLOATING FIRE ANTS
Berben then took the bees to her home, where she has beehives. She noted in the release she took the bees off campus to prevent the colony from attempting to return to its original location.
The bees rescued on Monday may be relocated again to the hives Berben manages on campus, she said. Berben noted, however, they would likely remain at her home until the spring.