Strange spiral cloud baffles experts
A strange spiral-shaped cloud has left experts scratching their heads.
The cloud, which resembles a jet's vapor trail or a rocket launch, was photographed last week on Salisbury Plain in Southern England.
'EYE-CLOUD?' STUNNING PHOTOS SHOW INCREDIBLE 'FACE-SHAPED' CLOUD FORMATION
SWNS reports that neither U.K. defense officials nor university weather experts have been unable to explain the cloud. The image was taken near a Ministry of Defense testing range. However, the U.K's Defense Infrastructure Organization is not aware of any exercises that could have caused the cloud.
The cloud sparked discussion on Twitter as users attempted to find out how the spiral formed.
UFO? BIZARRE 'ROLL CLOUD' IN TENNESSEE STUNS RESIDENTS
The spiral-shaped vapor, which was tainted red by the setting Sun, was spotted by a local man walking his dogs.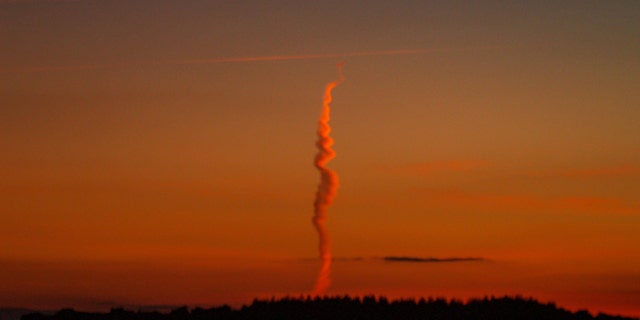 Other strange cloud formations have become viral phenomena. Last year, for example, remarkable pictures revealed 'face-shaped' clouds that appeared in the sky above southern England.
Also last year an incredible funnel-like cloud filled the sky in Tennessee as a thunderstorm rolled to a halt. The mysterious cloud formation stunned residents and some even compared it to a UFO.
CLICK HERE TO GET THE FOX NEWS APP
The eerie phenomenon was a "roll cloud" that sometimes appears after a thunderstorm.
Fox News' Jennifer Earl contributed to this article.  Follow James Rogers on Twitter @jamesjrogers