Sir Walter Raleigh's 'self-portrait' may have been discovered in the Tower of London
A mysterious painting hidden for centuries at the Tower of London may be a self-portrait of the famous adventurer Sir Walter Raleigh.
The crude etching, which was found beneath layers of paint in the fortress' Bloody Tower, could offer a fascinating glimpse into the aristocrat's final years. Raleigh was incarcerated in the Bloody Tower before his execution for conspiracy in 1618.
Knighted in 1585, Raleigh earned fame for his exploration of South America and also sponsored expeditions to North America, such as the "lost colony" at Roanoke. A favorite courtier of Queen Elizabeth I, he was also a soldier, writer, poet, politician, and the person credited with popularizing tobacco in England.
NEW CLUE TO MYSTERY OF LOST ROANOKE COLONY
Raleigh was imprisoned three times in the Tower of London during his tempestuous life. The first time was in 1592 when he incurred the wrath of Queen Elizabeth after marrying one of her ladies in waiting without the monarch's permission.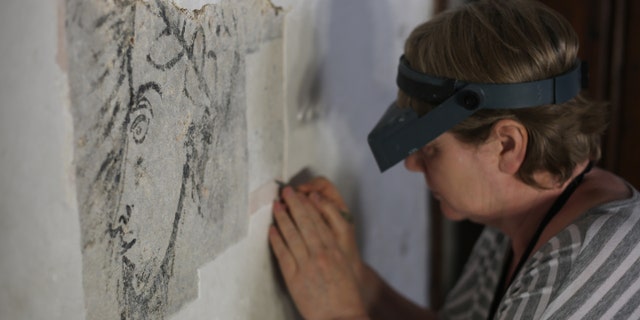 He was later imprisoned for conspiring against Queen Elizabeth's successor, King James I, from 1603 until 1616, when he was released to lead another expedition to South America. However, one of Raleigh's commanders attacked a Spanish outpost during the failed mission, violating the terms of Raleigh's pardon. Imprisoned again on his return to England, Raleigh remained in the Tower of London until his execution. He was beheaded in the Palace of Westminster on Oct. 29, 1618.
A spokeswoman for Historic Royal Palaces, which manages the Tower of London, told Fox News that the mural was discovered beneath layers of paint on a wall within the Bloody Tower. "It was painted on the base layer of that wall, which was installed while Raleigh was there," she said.
HISTORIAN DISCOVERS SECRET NOTES HIDDEN IN 500-YEAR-OLD BIBLE
Curators are now examining the etching to see if it is indeed a self-portrait of the ill-fated adventurer.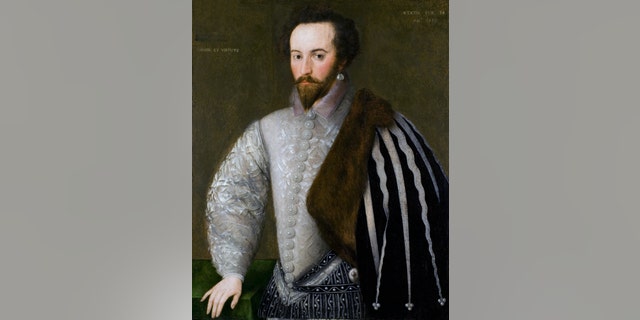 The Tower of London has also opened a special "Lost Garden" within the fortress to commemorate the 400th anniversary of Raleigh's death. The explorer lived in relative comfort during his imprisonment and used the courtyard outside the Bloody Tower to grow plants from the New World and experiment with ingredients for a strange "elixir of life."
"He was allowed the liberty of the Lieutenant's Garden," explained the spokeswoman for Historic Royal Palaces. "He was able to grow herbs and flowers to put into the 'medicinal elixir' he made."
KING OF RAGE: HENRY VIII'S BLOODTHIRSTY LETTER DEMANDS MONK'S BRUTAL DEATH
Officials have built a "Lost Garden" on the site once occupied by Raleigh's original apothecary garden, which features fragrant herbs, fruit and flowers.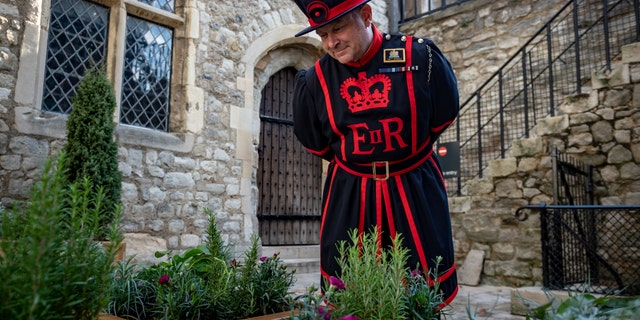 From the garden, visitors can step into Raleigh's study in the Bloody Tower, which has been "dressed" to reveal the reality of high-status imprisonment, according to Historic Royal Palaces.
Follow James Rogers on Twitter @jamesjrogers