Rescued squirrel becomes part of woman's family, stashes nuts in her hair: 'He's so funny'
This story is well — nutty.
An English woman saved an injured squirrel she found on the road after apparently being hit by a moving vehicle. Now, the squirrel stores nuts in her hair as he prepares to hibernate, SWNS reports.
Mandy McKenna, who lives in Shepton Mallet, said that the squirrel, which she has named Horatio, travels with her in her handbag when she goes out and about, sits on the sofa with her and watches TV with her.
WEST VIRGINIA POLICE 'APPREHEND' RACCOON 'DRUNK' ON FERMENTED CRAB APPLES
"When I watch TV he sits on the back of the sofa and hides nuts in my hair," McKenna said in comments obtained by SWNS. ''Sometimes I move something in the house and find out he stashed nuts there."
She added: "He is so cool, it's impossible not to be in a good mood around him."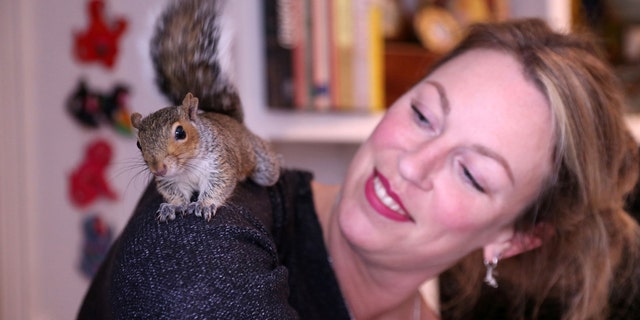 McKenna said that she found Horatio on her way back from work, where he appeared to be concussed and "giving out a distress noise and freaking out when a car came along."
"I don't know if he got hit," she said. "They just need to have a safe place for a few days. But he imprinted really quickly and would come back when I tried to release him. So he would endanger himself trying to come back. He spent the first week in my scarf or in my hair."
McKenna explained that the squirrel initially went to Aldi with her, but as she's gotten comfortable toting the tiny mammal around, she takes him all over the place.
"Now I take him to the shop where I work and when I go to friends' houses I have a handbag for him, so he can go inside if he wants to curl up and have a rest," she said.
"At home he just puts you in a good mood. He is so funny, it's impossible not to laugh when you are with him."
McKenna has a habit of rescuing creatures, having aided injured birds and bats in the past, but Horatio is the first animal to live with her, she said.
DOG PICS GO VIRAL AFTER SHE COMFORTED HERSELF IN A WAY THAT IS BREAKING PEOPLE'S HEARTS
"I rescued a squirrel about ten years ago after he had fallen from a tree," she said. "He stayed with me for three days and then went back into the wild. But Horatio imprinted quickly. He was too old to need his mother but too young to make it alone."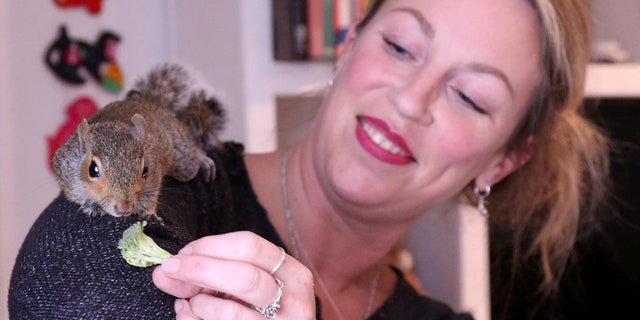 So what does McKenna feed the cuddly creature?
"He eats mostly vegetables and nuts, he likes ham, broccoli and corn on the cob and I make him squirrel flapjacks for extra calcium," she said, adding that she looked up information on how to provide for the squirrel on the internet.
While McKenna said that she had tried to release Horatio in the past, he kept coming back to her, and for now, that is where he will remain.
"I have tried to release him, but he keeps coming back and endangering himself on the road. At the moment it's not safe to let him out on the street so he is staying with me for now," she said.
Follow Chris Ciaccia on Twitter @Chris_Ciaccia