Orphaned baby chimp rescued from poacher, snuggles pilot on rescue flight
Video of a young orphaned chimpanzee named Mussa snuggling with a pilot on his flight to safety is raising awareness about the poaching of the endangered species.
A team from Lwiro Primates, along with pilot Anthony Caere, rescued 3-year-old Mussa from a village called Beni in North Kivu.
Lwiro Primates learned about Mussa through a photo that was circulating on the messaging app 'WhatsApp.' They learned Mussa was living at a man's home. In addition to the endangered chimpanzee, the man had other protected reptiles in his home. It's unclear if Mussa was a 'pet' or if the man was planning to sell the baby chimpanzee.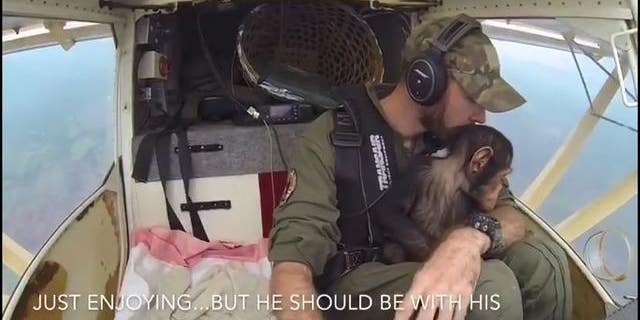 Lwiro Primates believes Mussa's mother was killed, since poachers are killing adults for bushmeat and taking the babies to sell.  Lwiro Primates Technical Director Itsaso Velez del Burgo tells KTVU, "Mussa's family was certainly killed, maybe just the mum, but probably they killed several members of the family. Is not possible to take a baby from the arms of her/his mum without killing her, because as in humans, mothers will do anything possible to protect their offspring."
According to Lwiro Primates there is an illegal traffic of chimpanzees towards China and Middle East, where baby chimps can be sold for thousands of dollars.
When Mussa was rescued he was flown to his new home at the non-profit Lwiro Primates, which is located in a small village called Lwiro in the Democratic Republic of Congo.
The pilot Anthony Caere wrote on his Facebook page, "This looks cute but is actually a sad story. He should be with his mum.. But happy we could give him a new good home!"