Hurricane Lane created a steamy white-out at Hawaii's Kilauea volcano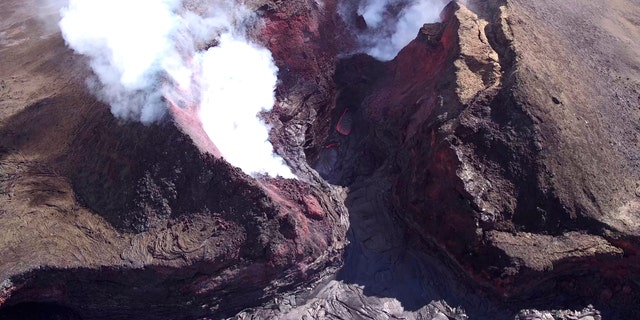 Torrential rain from Hurricane Lane caused steamy white-out conditions at Hawaii's Kilauea volcano this weekend.
"Steam created from #HurricaneLane rain falling on still hot rocks has created white-out conditions in #Kilauea's #LERZ," tweeted the U.S. Geological Survey Sunday. "LERZ" refers to Kilauea's Lower East Rift Zone.
"The Hawaiian Volcano Observatory (HVO) will continue to closely monitor Kīlauea's seismicity, deformation, and gas emissions for any sign of reactivation, and maintain visual surveillance of the summit and LERZ as best we can," said the U.S. Geological Survey, in a statement.
HAWAII VOLCANO: KILAUEA LAVA BOILED AWAY BIG ISLAND'S LARGEST FRESHWATER LAKE
Hurricane Lane brought record rain to Hawaii before it quickly dissipated into a tropical storm and moved off from the Big Island. Lane dropped 51.53 inches of rain as of early Sunday morning, according to figures from the National Weather Service.
"Preliminary rainfall measurements from the Big Island of Hawaii over the last four days, associated with former Hurricane #Lane, have produced the third highest storm total rainfall from a tropical cyclone in the US since 1950," tweeted National Weather Service Honolulu Sunday.
Hurricane Harvey, which stalled over Houston last year, dropped the most rain in that span with 60.58 inches. Hurricane Hiki dropped 52 inches in Hawaii in 1950, and Amelia produced a 48-inch rainfall in 1978.
HAWAII VOLCANO ERUPTION: HOW MANY PEOPLE ARE KILLED BY VOLCANOES?
Kilauea began spewing lava on May 3. The volcano, one of the most active in the world, has destroyed more than 700 homes. President Trump declared a major disaster area in Hawaii on May 11.
In June lava from the Kilauea eruption boiled away Hawaii's largest freshwater lake in just a matter of hours. In a statement released on June 2, the U.S. Geological Survey explained that lava from the eruption's fissure 8 entered Green Lake and boiled its water away, sending a white plume high into the sky.
Earlier this month USGS reported a slowdown in activity at Kilauea, noting that the volcano may be entering a pause. The slowdown prompted scientists to downgrade their alert level for the mountain. This, however, doesn't mean the eruption is over, they said. Kilauea has paused for days, weeks and even months during previous eruptions.
Fox News' Travis Fedschun and the Associated Press contributed to this article. Follow James Rogers on Twitter @jamesjrogers