Hurricane Irma: How NASA is capturing stunning images of the monster storm
NASA has unveiled incredible images and video of Hurricane Irma as it strengthens into a Category 5 hurricane, wreaking havoc across the Caribbean.
The government agency is using a number of tools to track the storm, similar to what it did with Hurricane Harvey, which battered the state of Texas, dropping more than 50 inches of rain.
NASA's Global Precipitation Measurement (GPM) core satellite was able to capture "an exceptional view" of the hurricane's eye, finding "extreme rainfall" within the eye wall. On Sept. 5 at 12:52 p.m. EST, NASA found that precipitation was falling at a rate of more than 10.8 inches per hour within the eye wall.
HOW NASA IS TRACKING TROPICAL STORM HARVEY
NASA used data from the GPM, as well as its Dual-Frequency Precipitation Radar (DPR) to come up with the calculations.
As the storm slams into the Caribbean and potentially makes its way towards Florida, NASA was able to capture night-time images of the storm.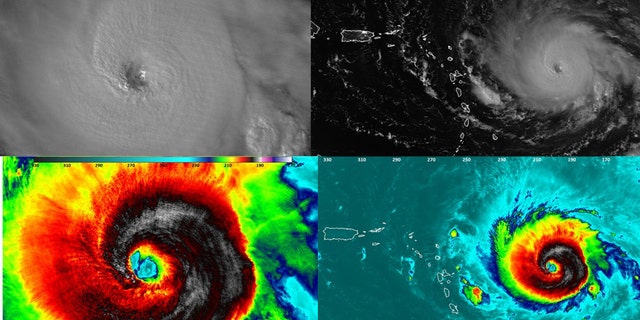 The GPM's radar found that the storms rotating around the eye reached altitudes greater than 7.75 miles, with some thunderstorms reaching heights of over 10 miles.
HURRICANE IRMA: AIRCRAFT CAPTURE STUNNING SHOTS OF MOON SHINING IN THE EYE OF THE STORM
NASA has also put together a satellite animation of Irma. This video shows imagery from the NOAA's Geostationary Operational Environmental (GOES) East satellite. The images were taken from the morning of Sept. 3 until the morning of Sept. 6., showing Irma move west and slam into St. Martin.
There is a hurricane warning in effect for essentially most of the Caribbean. Antigua, Barbuda, Anguilla, Puerto Rico, the U.S. Virgin Islands and a host of other countries are under watch.
Also included in the list are Haiti, which was slammed by Hurricane Matthew in 2016, as well as Guadeloupe, the Southeastern Bahamas and the Turks and Caicos Islands.
The hurricane is moving west-northwest at around 16 miles per hour, which NASA said "is expected to continue for the next couple of days."
It is expected to pass just north of Puerto Rico Wednesday and maximum sustained winds have continued to remain near 185 miles per hour, with gusts even higher.
Follow Chris Ciaccia on Twitter @Chris_Ciaccia