Giant Scottish rabbit seeks new home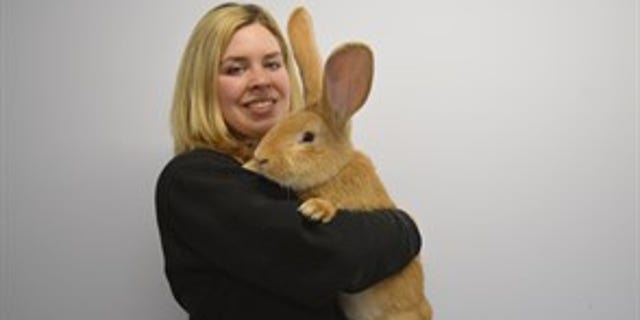 NEWYou can now listen to Fox News articles!
Animal welfare officials in Scotland are seeking a new home for a giant rabbit.
The larger-than-life bunny, appropriately named Atlas, is a seven-month-old continental giant rabbit. Staff at the Scottish Society for the Prevention of Cruelty to Animals (SPCA) in Cardonald, Glasgow, took Atlas in when his owner could no longer take care of him.
Related: Cute zoo babies
In a statement released on Monday, Anna O'Donnell, manager of the Cardonald SCPA Center explained that the dog-sized rabbit is about the size of a West Highland White Terrier. Atlas, she added, is still young with some growing to do.
"He is a very friendly rabbit who loves attention and getting cuddles," she said. "Atlas is also an inquisitive boy who makes everyone laugh with his mischievous character."
Related: America's only wild jaguar caught on video
Due to his breed and size, animal welfare officials are looking for a specific home for Atlas. "A standard rabbit hutch won't do so his new owner will need plenty of space for him," O'Donnell explained.
Although large, Atlas needs to do some growing before he catches up with Darius, who is said to be the world's largest rabbit. Weighing in at 49 pounds and stretching out to 4 feet 4 inches, continental giant rabbit Darius celebrated his fifth birthday last year.