World War II fighter plane flown by 'Great Escape' pilot discovered on Norwegian mountain
NEWYou can now listen to Fox News articles!
An extremely rare World War II Spitfire fighter plane flown by a pilot who later took part in the "Great Escape" has been recovered from a remote Norwegian mountainside.
Specially equipped for long-range reconnaissance, the Royal Air Force Spitfire AA810 was shot down on March 5, 1942, during a mission to photograph the German battleship Tirpitz. The Spitfire's pilot, Flt. Lt. Alastair 'Sandy' Gunn, bailed out from the plane but was captured by German forces. In 1944 he was part of the famous "Great Escape" breakout from the Stalag Luft III POW camp. Recaptured shortly after the breakout, the Scot was among 50 escapees executed by the Gestapo.
Gunn's plane was a specially adapted Mk 1 Spitfire stripped of guns and armor and fitted with additional fuel tanks to extend its range from 575 miles to nearly 2,000 miles.
HOW MAKESHIFT GOLF BALLS HELPED ALLIED PRISONERS SURVIVE NOTORIOUS NAZI POW CAMP
A team of researchers painstakingly recovered the pieces of the aircraft from a peat bog on the edge of the Arctic Circle last summer. "This Spitfire is one of the most significant recoveries, if not just in the last 20 years, then potentially ever," military aviation historian and Spitfire restorer Tony Hoskins told Fox News.
"Only a small handful of early Mk1 Spitfires exist, all but one of these have been restored from substantially less recovered wreckage than we recovered with AA810," he said via email.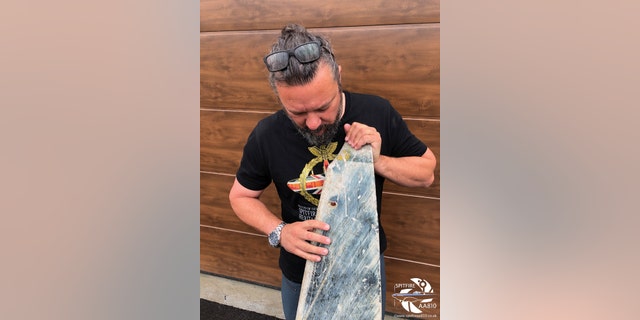 The link to the "Great Escape" also adds to the aircraft's notoriety. "AA810 is actually the ONLY surviving substantially complete wreck aircraft relating to anybody involved with the infamous escape in 1944, making it essentially priceless," the historian added.
Hoskins, the author of the forthcoming book 'Sandy's Spitfire,' has set up the Spitfire AA810 Project to restore the plane. The pieces of the aircraft were brought back to the U.K. on Aug. 1, 2018.
ALLIED WW II BOMBING RAIDS SENT SHOCKWAVES TO THE EDGE OF SPACE, SCIENTISTS SAY
"With the aircraft now recovered and with ownership transferred from the U.K. Ministry of Defence to myself, I have formed a restoration company which alongside the restoration of the aircraft to flight, has set about the task of dedicating further memorials to the men of the PRU [Photographic Reconnaissance Unit]," he told Fox News.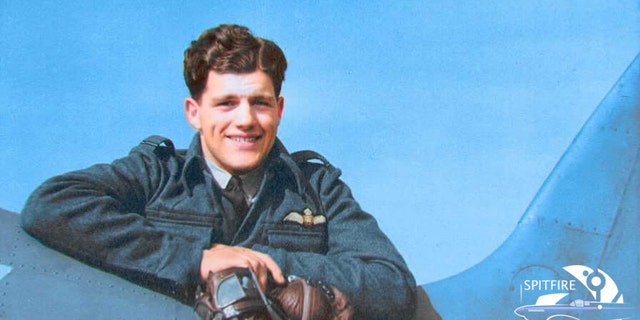 Ian Hewitt, CEO of Spitfire Heritage Distillers, which supports the Spitfire AA810 project, accompanied Hoskins and his team on the mission to locate and recover the Spitfire. "The thought of traveling to the edge of the Arctic Circle to repatriate a fallen Spitfire from off a mountain was the stuff of 'Boys Own' comic book dreams for me," he told Fox News, via email. "Each day we'd hike up to the crash site and begin digging — it was an incredibly emotional experience."
"The Spitfire has an effect on us Brits that is hardwired into our DNA," he added. "It has influence far beyond its physical form, so to be able to put our hands upon her and raise her piece by piece felt like a debt of honor in some way repaid to both aircraft and, of course, pilot Alastair Gunn."
STERN OF US WW II DESTROYER DISCOVERED NEAR REMOTE ALASKAN ISLAND: SURVIVOR RECOUNTS HARROWING DAY
Shot down on just its 16th operational mission and its 20th flight since being built, the plane was nonetheless flown by a number of notable Royal Air Force pilots.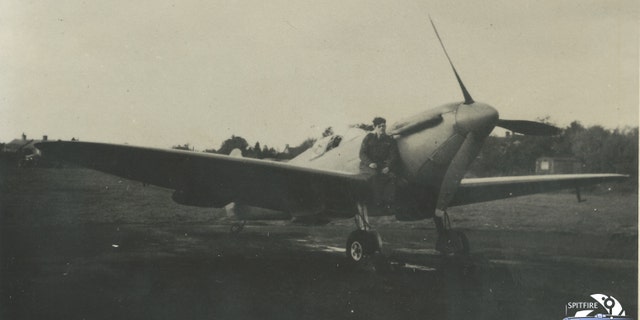 In addition to Gunn, these include Sgt. Mervyn Anthony Jones, a jockey who won the U.K.'s famous Grand National Steeplechase in 1940 and Flt. Lt. Alfred Fane Peers Agaberg, a pre-war racing driver. "Every one of the six men who flew this aircraft came from different countries, with very different backgrounds, with very different interests and achievements," said Hoskins.
"I struggle to think of any surviving aircraft that so epitomizes the wide range of 'people stories' to do with the war, in just one machine," he added.
WORKERS UNCOVER FORGOTTEN WWII MILITARY AIR RAID SHELTER
The Spitfire AA810 recovery effort will be featured in a BBC documentary titled "Digging for Britain"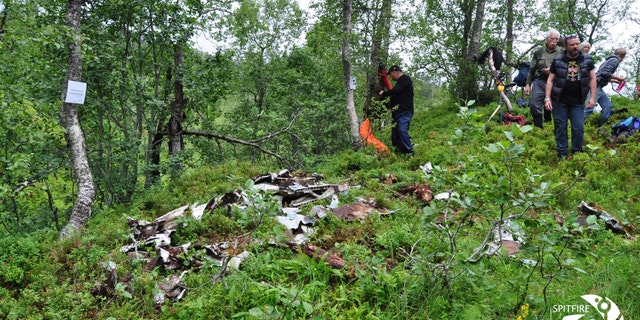 A number of downed aircraft from World War II have been located in recent years. The wreckage of a U.S. Air Force B-24 bomber, for example, was found in Papua New Guinea earlier this year, 74 years after it was shot down during a fierce battle with Japanese forces.
Last year engineers working on a sub-sea power link discovered what is believed to be the wreckage of a lost World War II Royal Air Force bomber the coast of Norway.
In 2015 the University of Hawaii and NOAA released incredible images of a U.S. Navy seaplane sunk during the opening moments of the attack on Pearl Harbor.
Follow James Rogers on Twitter @jamesjrogers