Wreckage of lost World War II bomber discovered in the North Sea
Engineers working on a sub-sea power link have found what is believed to be the wreckage of a World War II Royal Air Force bomber off the coast of Norway.
The engineers were conducting surveys of the seabed as part of the North Sea Link project to build a power cable between the U.K. and Norway when they found the plane wreckage. The discovery off the Norwegian city of Stavanger may help solve a decades-old mystery.
Experts consulted by the North Sea Link program identified the wreck as an RAF Short Stirling heavy bomber, which played a key role in delivering supplies from Britain to Norwegian resistance fighters during the war.
STUNNING PICTURES REVEAL THE WRECK OF US WORLD WAR II-ERA SUB
The Norwegian Institute for Cultural Heritage Research (NIKU) brought in World War II aviation enthusiast Bengt Stangvik to study the find. In a statement released by North Sea Link partner National Grid, Stangvik explained that several Short Stirlings disappeared without a trace on missions to Norway during the winter of 1944 to 1945. "Based on the location of this wreck, it is probable that it was on a mission to drop supplies to the resistance forces in western Norway," he said.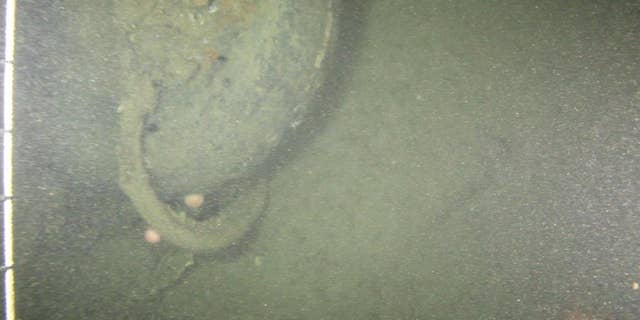 Stangvik noted that, of 30 British aircraft that went missing on missions to the Norwegian resistance, 19 were Short Stirlings. The discovery off Stavanger is likely to be one of six Short Stirlings that are still unaccounted for, he said.
The Short Stirling was the RAF's first four-engine heavy bomber during World War II, according to Stangvik, who said that the planes encountered problems flying above 15,000 feet when fully loaded. With other RAF bombers able to fly higher, German Luftwaffe nightfighters concentrated their efforts on the Short Stirlings during attacks.
SUNKEN SHIP MAY CONTAIN $130 MILLION OF NAZI GOLD
A spokesman for National Grid in the U.K., which is working with Norwegian electricity company Statnett to build the North Sea Link, told Fox News that engineers have made a careful record of the wreckage site. "We have noted where the wreckage is," he said, adding that the cable route will bypass the remains. "We will go around it to ensure that the wreck is not disturbed."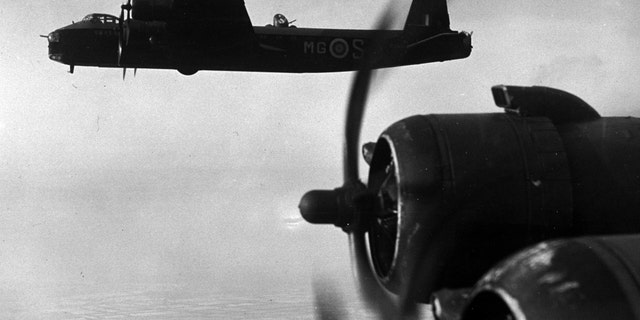 National Grid contacted the Joint Casualty and Compassionate Centre within the U.K.'s Ministry of Defence to notify them of the find.
In the statement, JCCC team member Sue Raftree acknowledged the potential discovery, but could not confirm it definitively. "Discoveries at sea are relatively rare due to their very location. A number of aircraft are known to have been lost in the North Sea during the course of the Second World War but we need positive evidence before we can confirm," she said. "We would class this aircraft as a war grave. It is protected under the Protection of Military Remains Act 1986 which covers crashed military aircraft in both UK territorial and international waters."
MINNESOTA WOMAN REUNITED WITH FATHER'S WWII HELMET FOUND ON DUTCH BATTLEFIELD
Nigel Williams, North Sea Link project director for National Grid, explained that sonar equipment is used to scan the sea bed at depths between 328 feet and 1969 feet. Any objects or structures detected are marked as "target points" and investigated using a remotely operated underwater vehicle (ROV) or a 'drop cam,' he added.
"When images of what appeared to be an aircraft wheel came through, you can imagine our surprise. It was only when experts investigated the images in more detail that we learnt there was a strong possibility it could be a British aircraft that served during World War Two," Williams said, in the statement. "Sadly, it appears the pilot and the crew of this particular aircraft were never able to complete their mission."
WORKERS UNCOVER FORGOTTEN WWII MILITARY AIR RAID SHELTER
The 447-mile North Sea Link, which is expected to become operational in 2021, will enable the U.K. and Norway to trade electricity.
Follow James Rogers on Twitter @jamesjrogers