Wreckage of WWII B-24 bomber discovered 74 years after it was shot down
NEWYou can now listen to Fox News articles!
The wreckage of a World War II B-24 bomber has been discovered in Papua New Guinea, 74 years after it was shot down during a fierce battle with Japanese forces.
The crew of "Heaven Can Wait," a B-24 D-1 bomber, was on a mission to bomb Japanese anti-aircraft batteries around Hansa Bay on the north coast of Papua New Guinea when it was shot down on March 11, 1944. The bomber, which crashed into the Pacific Ocean, left 11 American servicemen missing in action.
Experts from Project Recover, which includes marine scientists, archaeologists and volunteers, have now located the aircraft's wreckage in Hansa Bay. The team set their sights on finding "Heaven Can Wait" after family members of one of the B-24's crew presented them with four years of research on the circumstances surrounding the crash.
INCREDIBLE IMAGES REVEAL US NAVY SEAPLANE LOST IN PEARL HARBOR ATTACK
The family members were seeking closure on their lost relative, according to a statement released by Project Recover. "These data included historical eyewitness narratives from official military reports, mission documents, and diary entries from crew members on other aircraft in formation with the B-24 during its flight," researchers explained in a statement.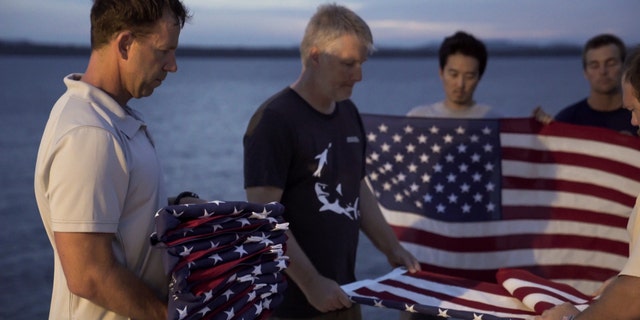 In October 2017, Project Recover launched an extensive survey of the area believed to be the final resting place of "Heaven Can Wait" and four other U.S. aircraft, accounting for a total of 24 missing servicemen.
An 11-day search that covered nearly 10.4 square miles of sea floor and harnessed scanning sonars, high-definition imaging technology as well as aerial and underwater drones, found the "Heaven Can Wait" debris field in 213 feet of water.
WWII WRECK USS HELENA DISCOVERED BY MICROSOFT CO-FOUNDER PAUL ALLEN'S CREW
Details on the crash site have been passed on to the U.S. government for review. This could potentially set in motion a process for recovering and identifying the remains of the crew.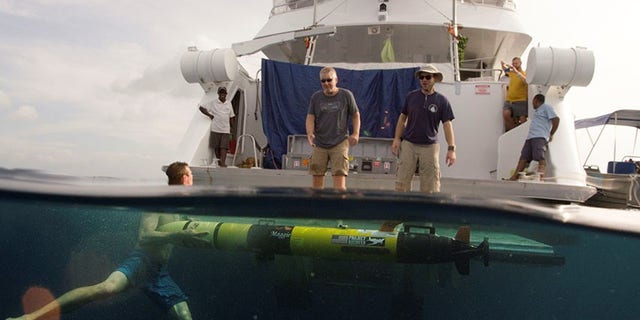 The Defense POW/MIA Accounting Agency (DPAA) oversees the recovery and repatriation of the remains of U.S. military personnel and is also responsible for notifying family members. Fox News has reached out to the Agency for comment on this story.
"Unique to this mission was the contact by an extended family group associated with 'Heaven Can Wait' while our historians were independently researching the loss of their loved one prior to our departure to Papua New Guinea," said Eric Terrill, co-founder of Project Recover, expedition leader at Hansa Bay, and an oceanographer from Scripps Institution of Oceanography at the University of California San Diego, in the statement.
Terrill continued: "The results from our efforts in Hansa Bay have stirred a mix of lasting emotions within our team and drives home the need to recognize the sacrifices that service members and their families make in protecting our freedoms."
HUGE WORLD WAR II SHIPWRECK RAISED FROM THE DEPTHS IN MASSIVE SALVAGE OPERATION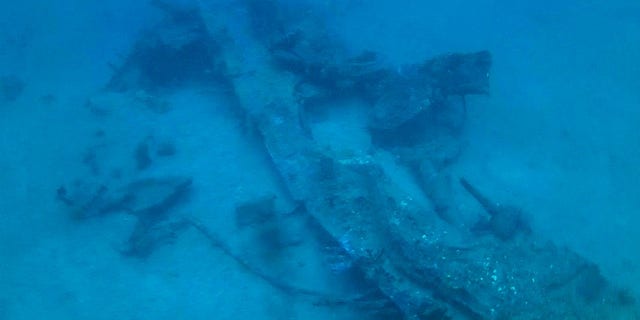 The crew of "Heaven Can Wait" had only arrived in Papua New Guinea four months prior to their fateful mission, according to Project Recover. The airmen were part of the 320th "Moby Dick" squadron of the "Jolly Rogers" 90th Bombardment Group.
"This is an important step toward our ultimate goal of identifying and returning home the crew of 'Heaven Can Wait' who bravely served our country during the battle at Hansa Bay," said Dan Friedkin, Project Recover team member and backer via his company, The Friedkin Group. "Our search efforts for the more than 72,000 missing American service members from World War II will continue as we seek to bring closure to the families impacted by their loss."
WRECK OF THE USS JUNEAU, FAMOUS FOR THE DEATHS OF THE 5 SULLIVAN BROTHERS, DISCOVERED IN PACIFIC
Over the last five months, Project Recover's efforts have resulted in the repatriation ceremonies for the remains of three U.S. service members missing since World War II.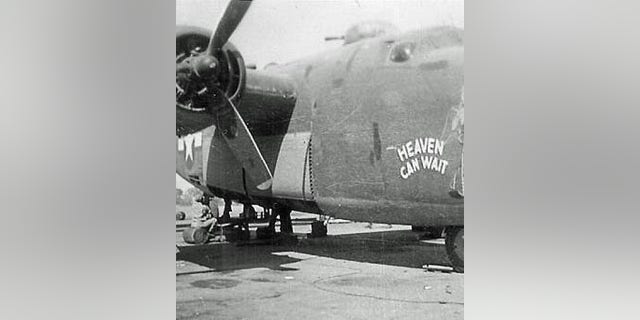 Other researchers are also working to locate the sites of U.S. World War II wrecks. Earlier this year, for example, a team led by Microsoft co-founder Paul Allen found the wreck of the USS Helena in the Pacific, almost 75 years after it was sunk by Japanese torpedoes.
Expeditions led by Allen have discovered a host of historic military shipwrecks, such as the USS Lexington, which was located in March, 76 years after it was lost in the Battle of the Coral Sea. Shortly after finding the Lexington, Allen's team found the wreck of the USS Juneau, which was sunk by a Japanese torpedo with the loss of 687 sailors in 1942.
Last year, Allen's crew found the long-lost wreck of the USS Indianapolis in the Philippine Sea.
In 2015 experts from NOAA and the University of Hawaii have released remarkable images of a U.S. Navy seaplane sunk during the opening minutes of the attack on Pearl Harbor on Dec. 7, 1941.
Follow James Rogers on Twitter @jamesjrogers