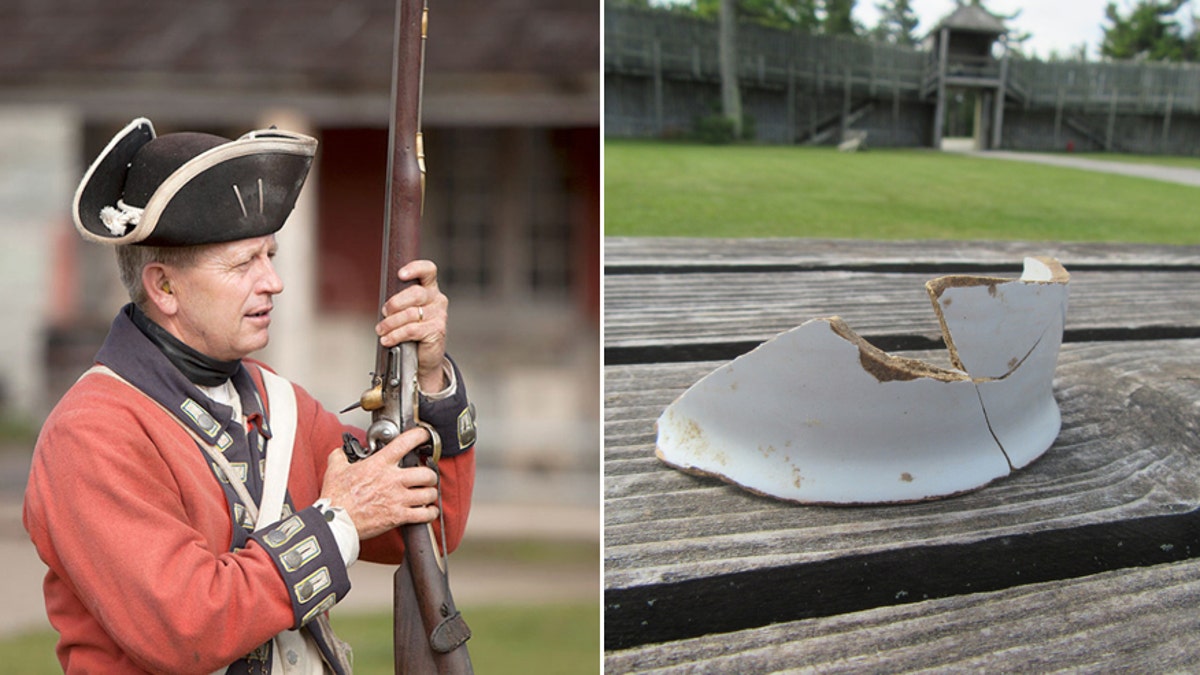 A number of everyday items from the late 1700s have been discovered at the site of a colonial-era fort in Michigan, offering a fascinating glimpse into America's past.
An unusual brass thimble, ceramics, a knife and shards of a glazed tin jar were unearthed last month during an archaeological excavation at Colonial Michilimackinac in Mackinaw City, Michigan. The artifacts were found in the remains of a cellar at the site.
Fort Michilimackinac is an 18th-century fort and trading village on the straits of Mackinac. Built by the French in 1715, the fort was taken over by the British in 1761.
REVOLUTIONARY WAR-ERA KNIFE DISCOVERED IN MICHIGAN STATE PARK
"One of the most unusual artifacts in the level [that was excavated] was a brass thimble with a small hole punched in the top of it," explained Dr. Lynn Evans, curator of archaeology at Mackinac State Historic Parks, in a statement emailed to Fox News. "Thimbles were sometimes strung to be worn like tinkling cones. A small section of string was preserved inside the thimble by the copper salts from the brass."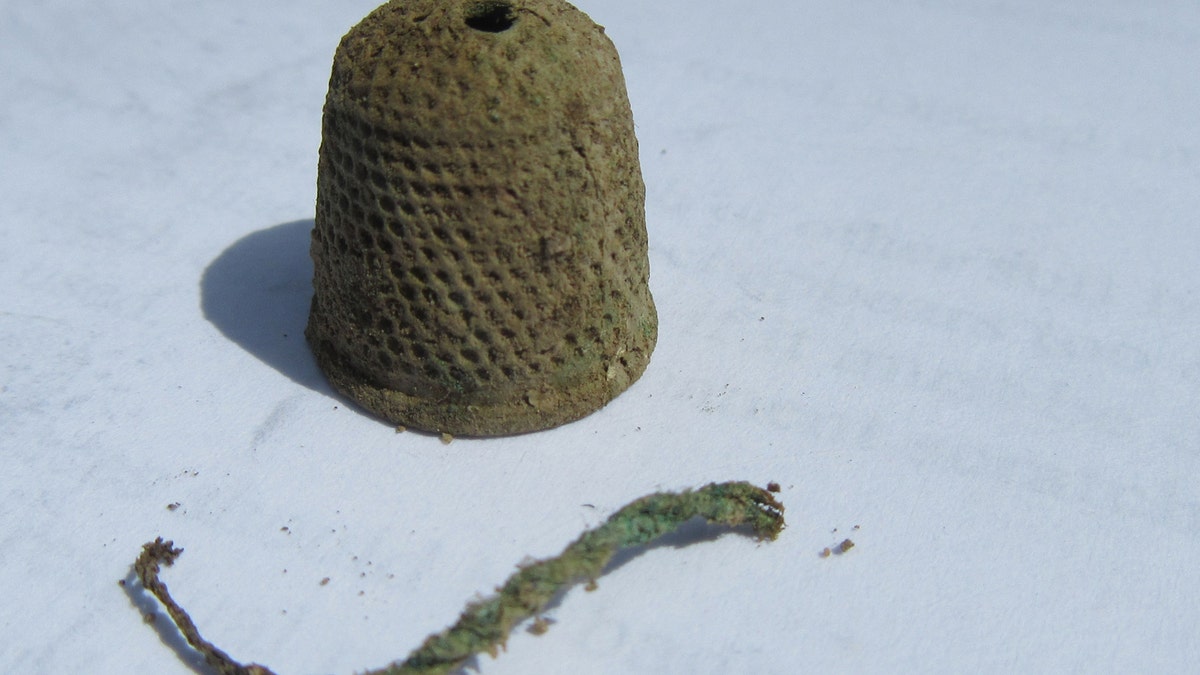 A variety of ceramics were also found at the site, including four shards of a white, tin-glazed earthenware jar, shards from two different blue and white Chinese export porcelain vessels, and a fragment of beaded English creamware, according to Evans.
A 7-inch case knife blade with a broken handle was also excavated from the site in June. "One of the rivets from the handle is still present," explained Evans, noting that it is the third knife blade found in the area of the cellar. "Several barrel band fragments have been found as well. This suggests that the cellar was being used to store trade goods, such as knifes, in addition to food," she added.
EXTREMELY RARE DECLARATION OF INDEPENDENCE PRINT GOES ON DISPLAY
Last year a Revolutionary War-era knife was found at Colonial Michilimackinac. The knife, which has an intact blade, dates back to 1781 or older. Other artifacts found at the site include a colonial lock and a piece of silver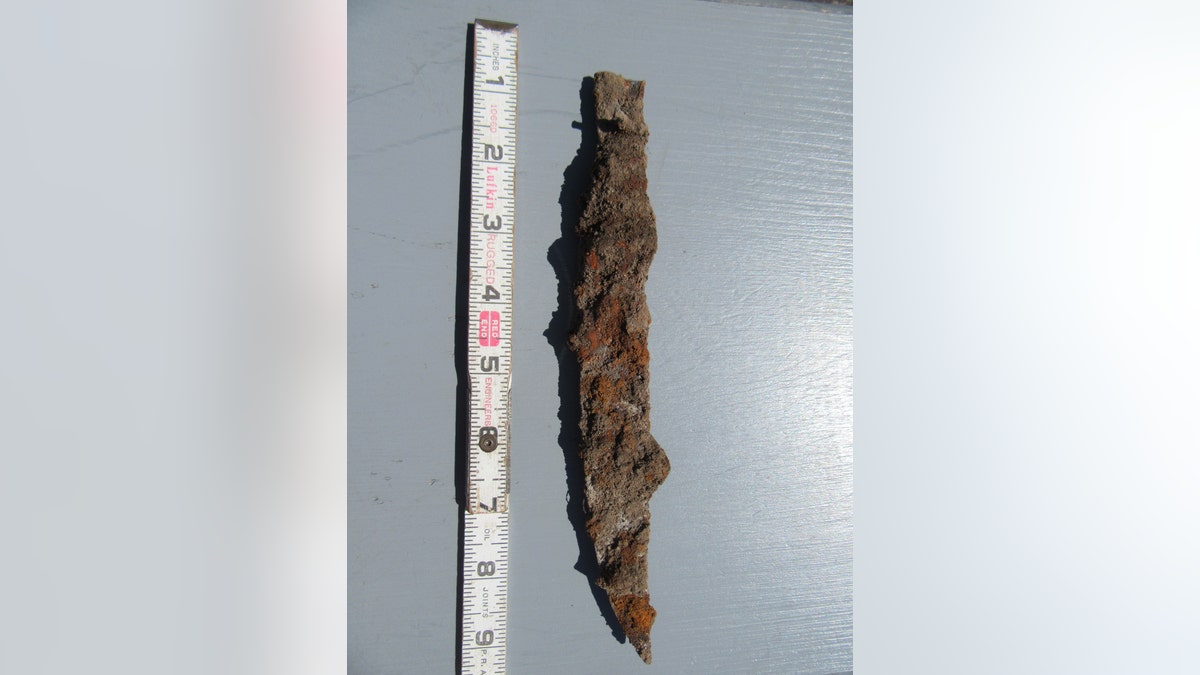 In July 2017, an 18th century crucifix was also found near the location, according to MLive.
Other historic items from America's early days are also in the spotlight at the moment. Just in time for the Fourth of July, an extremely rare printed copy of the Declaration of Independence has gone on display at the Museum of the American Revolution in Philadelphia.
ROANOKE COLONY MYSTERY: COULD THIS STRANGE ROCK REVEAL THE SETTLERS' FATE?
One of the first printed versions of the Declaration of Independence, the parchment was printed by Philadelphia's John Dunlap in July 1776. Known as a broadside, the parchment is printed on one side. The historic document is on loan from the American Philosophical Society Library in Philadelphia. This marks the first time that the parchment has been displayed outside the library's walls.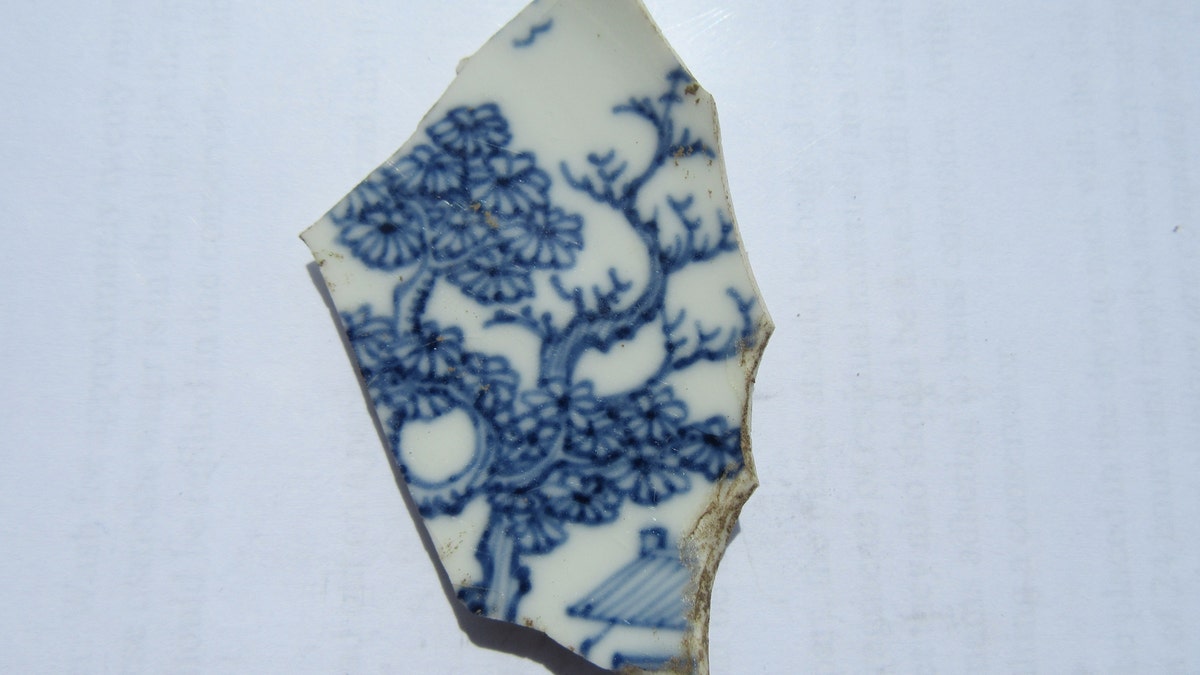 Follow James Rogers on Twitter @jamesjrogers