Canada May Pull Out of Kyoto Accord, Report Says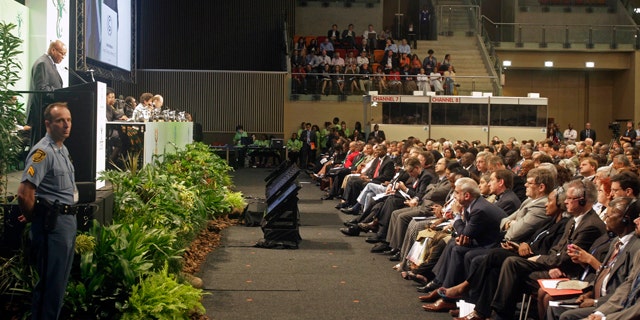 NEWYou can now listen to Fox News articles!
Canada dismissed the Kyoto Protocol on climate change on Monday as a thing of the past, but declined to confirm a media report it will formally pull out of the international treaty before the end of this year.
Although the right-of-center Conservative government walked away from its Kyoto obligations years ago, a formal withdrawal would deal a symbolic blow to global talks to save the agreement, which opened in South Africa on Monday.
Canada says it backs a new international deal to cut global emissions of greenhouses bases but insists it has to cover all nations, including China and India, which are not bound by Kyoto's current targets.
Although Japan and Russia share Canada's view, and the United States never ratified Kyoto, no nation has yet formally renounced the treaty.
"Kyoto is the past," Environment Minister Peter Kent told reporters in Ottawa, describing the decision by Canada's previous Liberal government to sign on to the protocol as "one of the biggest blunders they made."
The Conservatives - who green groups say are recklessly pushing development of the Alberta oil sands and generally ignoring the environment - complain the Liberals signed Kyoto and then did nothing to stop the country's emissions from soaring.
In an unsourced report, CTV News said the government would announce its formal withdrawal from Kyoto on December 23, once the Durban talks are over.
"I'm neither confirming or denying (the report)," said Kent, who spoke after announcing that Canada would spend C$600 million ($583 million) over the next five years to help improve air quality.
Canada has long been the focus of environmentalists' ire and regularly wins "Fossil of the Day" awards at major international meetings.
"Countries should be asking themselves why Canada is sitting at the Kyoto negotiating table with a secret plan to formally withdraw from the protocol mere weeks after the talks end. This move is a slap in the face to the international community ... Shame on Canada," said Hannah McKinnon of Climate Action Network Canada.
Kent said the government - which has close ties to Western Canada's energy industry - wanted to meet its climate change commitments, but added that "we're not going to strand capital, we're not going to threaten jobs in any of the sectors".
Kyoto obliged Canada to cut emissions to 6 percent below 1990 levels by 2012. In 2009, Canada emitted 690 million tonnes of carbon dioxide equivalent, 17 percent above 1990 levels, largely because of an increase in oil extraction from the vast oil sands of northern Alberta.
The Conservatives subsequently adopted less ambitious targets and now say Canada will cut greenhouse gas emissions by 17 percent below 2005 levels by 2020.
"We need a new agreement, a post-Kyoto agreement, that includes all of the major emitting countries, whether they be developed countries or developing countries," said Kent.
"There is an urgency to this. We don't need a binding convention - what we need now is action and a mandate to work on an eventual binding convention."