Boeing Starliner fails mission, won't reach ISS after launch debut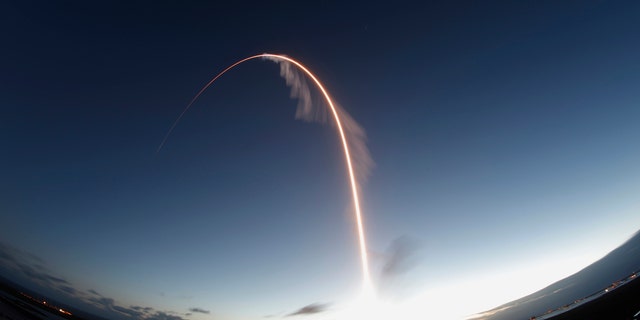 Boeing's new Starliner capsule failed its initial flight, running off course just a few minutes after it rocketed off Friday morning, running into trouble.
Everything went flawlessly as the Atlas V rocket soared with the Starliner just before sunrise. But a half-hour into the flight, Boeing reported that the capsule didn't get into the position needed to get to the International Space Station.
NASA Administrator Jim Bridenstine tweeted the capsule burned more fuel than planned.
NASA'S QUIETER SUPERSONIC PLANE GETS FINAL ASSEMBLY APPROVAL
"Because Starliner believed it was in an orbital insertion burn (or that the burn was complete), the dead bands were reduced and the spacecraft burned more fuel than anticipated to maintain precise control," Bridenstine wrote, adding it precluded Starliner from rendezvousing with the International Space Station.
An industry source with knowledge of the matter told Fox News that the Atlas rocket performed as intended, placing the Starliner into orbit.
Since there was a greater fuel burn, the rest of the flight was jeopardized. Boeing's Starliner was intended to reach the ISS on Saturday and stay for a week.
Hoards of people watched the Starliner's initial flight take off from Cape Canaveral Air Force Station. It was visible for at least five minutes, but as news of a setback began to emerge, the mood quickly turned negative. NASA officials deferred to Boeing for updates.
"Safe and stable is the important thing right now," Boeing spokeswoman Kelly Kaplan said in comments obtained by the Associated Press.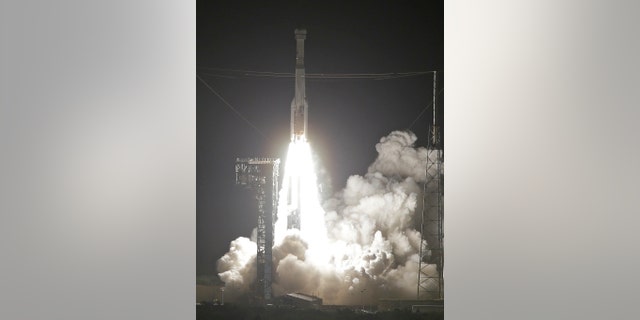 Tory Bruno, United Launch Alliance CEO, said it was a "significant and nominal flight," adding that "the aerodynamic skirt functioned beautifully." The United Launch Alliance is a joint venture between Boeing and Lockheed Martin.
Boeing, which has been working on the Starliner since 2010, was awarded a $4 billion contract by NASA in 2014 to work on the Starliner, as it looks to compete with SpaceX, NASA's other commercial crew provider.
In March, the Elon Musk-led company successfully completed a similar demonstration. SpaceX has one more hurdle, a launch abort test, before it will carry two NASA astronauts on its Dragon capsule, which could happen as soon as spring 2020.
NASA awarded SpaceX $2.6 billion for a crew-version of its Dragon cargo ship.
Bridenstine has been adamant that the U.S. needs multiple companies to compete for its contracts as it seeks to cut costs, boost innovation and open space up to more people.
The space agency handed over station deliveries to private businesses, first cargo and then crews, in order to focus on getting astronauts back to the moon and on to Mars.
Commercial cargo ships took flight in 2012, starting with SpaceX. Crew capsules were more complicated to design and build, and parachute and other technical problems pushed the first launches from 2017 to now next year. Last April, a SpaceX crew capsule exploded during a ground test.
It's been nearly nine years since NASA astronauts have launched from the U.S. The last time was July 8, 2011, when Atlantis — now on display at Kennedy Space Center — made the final space shuttle flight.
Since then, NASA astronauts have traveled to and from the space station via Kazakhstan, courtesy of the Russian Space Agency, costing the space agency $86 million per ride.
Built to accommodate seven, the white capsule with black and blue trim will typically carry four or five people. It's 16.5 feet (5 meters) tall with its attached service module and 15 feet (4.5 meters) in diameter.
For the test flight, the Starliner carried Christmas treats and presents for the six space station residents, hundreds of tree seeds similar to those that flew to the moon on Apollo 14, the original air travel ID card belonging to Boeing's founder and a mannequin named Rosie in the commander's seat.
The test dummy — named after the bicep-flexing riveter of World War II — wore a red polka dot hair bandanna just like the original Rosie and Boeing's custom royal blue spacesuit.
The flight was designed to test all systems, from the vibrations and stresses of liftoff to the Dec. 28 touchdown at the Army's White Sands Missile Range in New Mexico, with parachutes and air bags to soften the landing. Even the test dummy is packed with sensors.
On the eve of the flight, Bridenstine said he's "very comfortable" with Boeing, despite the prolonged grounding of the company's 737 Max jets. The spacecraft and aircraft sides of the company are different, he noted. Boeing has long been involved in NASA's human spacecraft program, from Project Mercury to the shuttle and station programs.
NASA wants to make sure every reasonable precaution is taken with the capsules, designed to be safer than NASA's old shuttles.
"We're talking about human spaceflight," Bridenstine cautioned. "It's not for the faint of heart. It never has been, and it's never going to be."
CLICK HERE TO GET THE FOX NEWS APP
This story has been updated to include comments from ULA CEO Tory Bruno. The Associated Press contributed to this report.