What Is a Twin Home? It's Not Just Another Word for 'Duplex'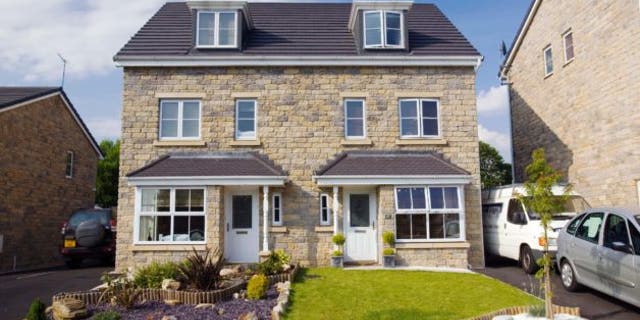 The first time you come across the term "twin home" in a home buying search, you might confuse it with other types of properties that share walls, like a duplex or a townhome. These types of properties look similar, but there are very important—and subtle—details that distinguish each from the others.
So what is a twin home? Here's a helpful primer on how you can identify what a twin home is and isn't.
What is a twin home?
A twin home—much like a duplex—shares a center wall and looks like two identical houses.
"You own your house, someone else owns the other house, and there's a communal wall that runs between them," says Kansas Realtor® Joel Weihe. "But in a twin home situation, the lot line runs down the middle of the house."
So the difference between a duplex and a townhome lies in the ownership of the lot: A twin home is two properties on two lots and a duplex is two properties on one lot.
A twin-home owner is responsible for the maintenance and insurance on their side of the lot, Weihe points out. "You can paint your home a different color than the one on the other side, have a different roof color—whatever you want!"
Photo by Horizon Habitats – Just because they share a wall doesn't mean they share a property lot.
It's not a duplex duplicate
A shared center wall and consistent style are essential characteristics of a twin home. Of course, those characteristics are also found in a duplex. So what makes a twin home different from a duplex?
A duplex is made up of two individual properties on one shared lot. Each side of the duplex may have a separate owner, but the owners must cooperate on landscaping, exterior maintenance, and more. A duplex is classified as a multifamily property, while a twin home is not.
It's also not a townhouse
A twin home also differs from a townhouse: Although they both have different owners, townhouses are generally arranged in a row of identical houses that share walls on either side, except for the end units. Townhouse owners are usually allowed to maintain a small yard in the front or back of their home, but they also pay association dues covering the costs of maintenance.
Pros and cons of twin homes
There are certain upsides to buying a twin home; chief among them is the price tag. A twin home can be quite a bit less expensive than a single-family dwelling in the same neighborhood.
You also have more independence from your next-door neighbors, and you don't have to consult with them about the look and maintenance, as you would if you lived in a duplex or a townhouse. There's also the security factor: It might be nice having someone close by especially if you travel or live alone.
On the other hand, you'd better hope you get along with your twin-home neighbors, because you'll be living just one wall away from each other. You'd also better hope you have the same taste, because if your neighbors decide to paint their house purple and put giant inflatable chickens on their front lawn, you might not be able to stop them, unless there are planned community rules that prohibit this.
Privacy and noise can also be issues when you are living in such close quarters to someone else.
Twin homes may not be ideal for the fiercely independent, but they do allow a little more independence, and savings, than your basic duplex or townhouse.
The post What Is a Twin Home? It's Not Just Another Word for 'Duplex' appeared first on Real Estate News & Advice | realtor.com®.