'You run the damn Justice Department': Holder says Sessions must 'have the guts' to say no to Trump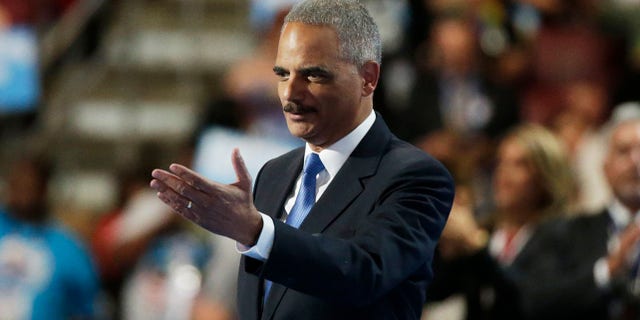 Former Attorney General Eric Holder criticized Jeff Sessions Monday night for his role in the firing of former FBI Deputy Director Andrew McCabe -- saying that Sessions must "have the guts to look at the president every now and again and say 'no.'"
Sessions fired McCabe on Friday, two days before McCabe's scheduled retirement date. McCabe, a regular target of President Trump's ire, has suggested that his departure was part of what he described as the administration's "war on the FBI."
Speaking at Georgetown University, Holder accused Sessions of rushing to fire McCabe at Trump's behest.
It may be that at the end of the day … [McCabe's] termination is appropriate," Holder said. "But you know, you don't rush that component of it to meet a deadline that I think the president essentially set. You're the Attorney General of the United States. You run the damn Justice Department. You know? And you've got to have the guts to look at the president every now and again and say 'no.'"
Trump had repeatedly condemned McCabe over the last year as emblematic of an FBI leadership he contends is biased against his administration. On Saturday, hours after McCabe was dismissed, Trump tweeted that it was a "great day for Democracy" and a "great day for the hard working men and women of the FBI."
Holder said Trump's verbal assaults on McCabe were "unconscionable" and "punching down."
"You're the president of the United States and you're going after a career deputy FBI director ... who doesn't really have the capacity to defend himself, certainly while he was in that position," he told Mo Elleithee, the executive director of Georgetown's Institute of Politics & Public Service.
Holder also gave his thoughts on special counsel Robert Mueller's investigation into ties between the Trump campaign and Russian officials during the 2016 election.
The former attorney general said it was "entirely possible" that Trump could order Deputy Attorney General Rod Rosenstein to fire Mueller.
"I think this investigation's proceeding along three tracks," Holder said. "There's the whole question of conspiracy – and stop calling it collusion. There's no such thing as collusion – it's conspiracy. There's obstruction, and then there's the question of what happened with the Trump businesses, enterprises, entities in Russia that I think Bob Mueller has to look at to try to, if nothing else, get context for the other parts of the investigation.
"And I think it is that third strand that could lead the president to terminate Bob Mueller."
Trump has said that Mueller would cross a red line if the special prosecutor sought financial information from his family business.
The Associated Press contributed to this report.