Wyoming secretary of state accused of sexual assault by former intern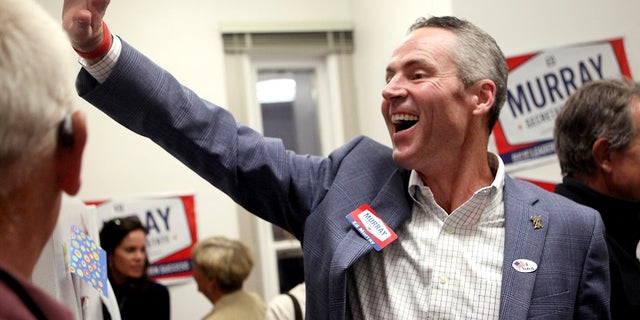 A woman who interned for Wyoming's Secretary of State Ed Murray said he sexually assaulted her more than 35 years ago.
Tatiana Maxwell, of Boulder, Colo., wrote in a Facebook post Monday that the Republican secretary of state wrestled her to the ground, lifted up her shirt and ejaculated on her stomach after they had met up after hours at the law office where they worked.
"One of the unforgettable memories was of him handing me the box of Kleenex from the receptionist's desk to clean myself up after he was finished," she wrote.
Maxwell said she did not come forward immediately in fear of losing her job.
"It was confusing to know what to do. I really liked my job and was worried that telling someone would get me fired," Maxwell said.
NINE MORE WOMEN ACCUSE TOP APPELLATE JUDGE OF SEXUAL MISCONDUCT
She wrote that she bumped into Murray years later at a high school reunion. Murray married one of Maxwell's fellow classmates.
"At one point he singled me out at the milk can dinner in the barn and told me he wanted to apologize for what had happened almost a decade before but, again, he couched it in terms that I was irresistible and he couldn't control himself," Maxwell wrote.
Murray, 59, who was a potential 2018 candidate for governor, denied the claims, calling them "unequivocally false."
Murray wrote in a statement the accusations were "deeply hurtful to me and to my family, as well as to everyone I serve."
"I struggle to understand what would motivate someone to make this kind of accusation," Murray added. "But considering that this statement was made in the context of the #metoo movement, I want to take this moment to acknowledge the overall importance of this conversation, as well as to reaffirm my commitment to being an ally for women."
Maxwell, who owns a company that has developed a handful of residential properties in Wyoming, is a significant donor to the Democratic Party but she insisted her accusation against Murray was "really, strictly personal" and in no way political.
AL FRANKEN, BLAKE FARENTHOLD, JOHN CONYERS AMONG POLITICIANS ACCUSED OF SEXUAL MISCONDUCT IN 2017
Maxwell gave more than $37,000 to Democratic candidates and causes since the late 1990s, according to Federal Election Commission records.
Maxwell's Facebook photos include one of her posing with 2016 Democratic presidential candidate Hillary Clinton. She said she did not know that Murray was thinking about running for governor until reporters contacted her on Thursday, she told The Associated Press in a telephone interview.
"I've been carrying it around for 35 years and there's no question that the national conversation has been helpful and, you know, empowering," Maxwell said, referring to the several other women recently accusing prominent men of sexual misconduct.
"I didn't know then and I hadn't known for years exactly what to do with it. But what I do know is I don't want my children, I don't want my daughters, to ever have to go through the same thing. If it's my job to stand up and take the heat, then so be it."
The Associated Press contributed to this report.