Wisconsin Senate evenly split after resignation, as lawmakers eye recall contests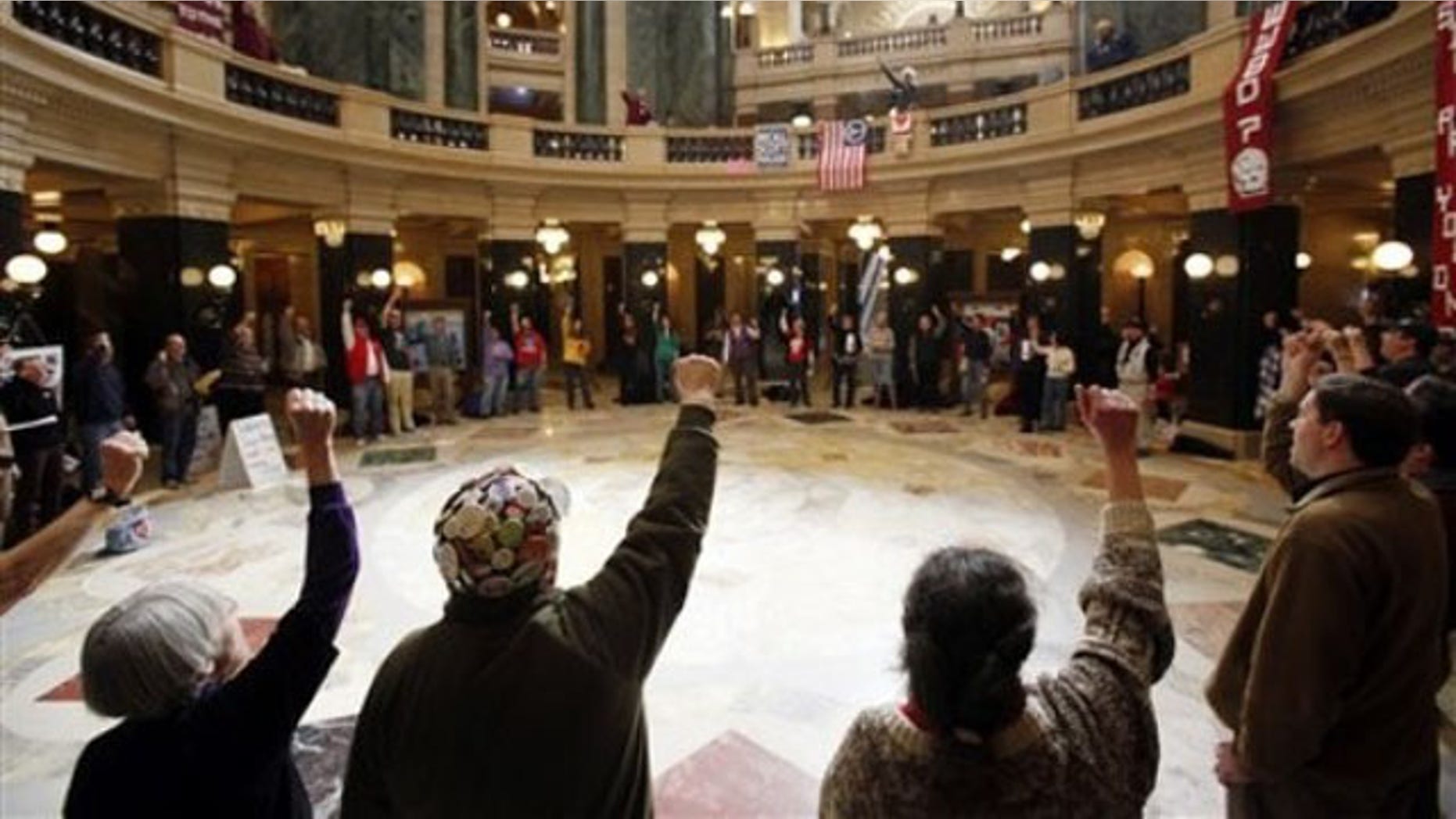 After months of trying to unseat Republicans who helped Gov. Scott Walker push through his union overhaul, Wisconsin Democrats have achieved ... deadlock.
One of the Democrats' key targets in their recall election push, Republican Sen. Pam Galloway, stepped down from her post last weekend. The move leaves the Wisconsin state Senate evenly split -- with 16 Democrats, 16 Republicans.
For the near-term, the tie will not have much impact on state business. After their epic session ended this month, Wisconsin lawmakers are on break for the year.
Each party, though, is now looking to the upcoming recall elections, and the next round of voting in November, to shape the legislative landscape in one of the most tumultuous state capitals in the country.
Walker, the lieutenant governor and four state GOP senators, are expected to stand for election by June. While Wisconsin holds its presidential primary contest on April 3, political attentions are trained on those recall contests.
"I definitely think that we can maintain our majority," Galloway told FoxNews.com in an interview Friday.
Galloway, who was facing a tough Democratic recall challenge, cited "sudden and serious health issues" in her family in her decision last week to step down. She insists she would have won in the June recall election had she stayed in, and she voiced confidence in the party's ability to regain and retain the majority.
"Voters are really fatigued with this entire recall process," Galloway claimed, arguing that Walker's reforms are "working" and the private sector recognizes that. Wisconsin Republicans' overhaul, among other things, cracked down on collective bargaining for government workers.
Republican state Rep. Jerry Petrowski is now running for Galloway's seat, against Democratic Rep. Donna Seidel.
But Democrats have made gains since launching their push with union support to oust Walker's allies. Democrats came within two seats of taking back the majority in last summer's round of recalls.
Brad Wojciechowski, spokesman for the State Senate Democratic Committee, said the races will hang on "failed policies of the Republican leadership."
He said it's unclear yet whether Democrats will have the opportunity to not just win back the Senate but start to undo Walker's agenda.
But he predicted that if Democrats take back the chamber in June, "we are confident we will hold the majority in November 2012."
"For the past year and couple months we haven't had any checks and balances in Wisconsin government. And now we'll be able to have those checks and balances," Wojciechowski said.
Democrats are still a long way from the wheels of power in Madison. The Republicans hold the House. To even start controlling the agenda, Democrats would have to claim the Senate majority in June, hold it in November and knock Walker out in the process.
David Avella, president of Republican recruiter GOPAC, described the recall push as a "waste," even if Democrats win in June.
"Nothing really will change other than Democrats will spend a whole lot of money on elections so that they can be in charge for four months (in the Senate)," he said. "The special elections will have more impact on the fall elections than they will on the legislative agenda in Wisconsin in 2012."
Avella said the outcome of the recall votes could either fuel or dampen Democratic enthusiasm going into November, on a national scale.
"Should the union bosses and liberal organizations be successful, they will use it to motivate their allies across the country," he said. "Should they fall short, it will be further proof that their agenda is out of touch with what Americans want."