Wife of Venezuelan opposition leader in 3rd week of hunger strike says they 'won't back down'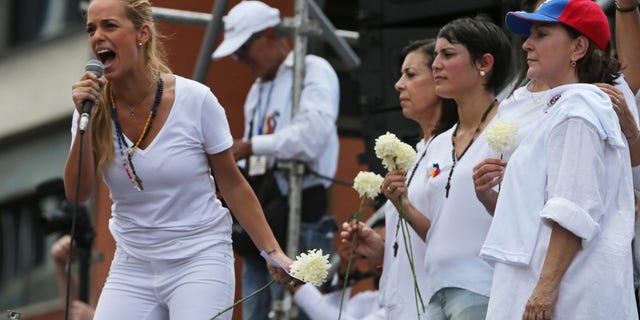 NEWYou can now listen to Fox News articles!
Caracas – Lilian Tintori, wife of jailed Venezuelan opposition leader Leopoldo López, expressed support but also concern about her husband's plight as he enters the third week of a hunger strike along with 29 other political prisoners.
"They are firm in their decision, they are innocent, and they are in jail only because they protested, which is not a crime," she told Fox News Latino. "The whole world knows Venezuela is on the verge of a humanitarian crisis," she added.
Tintori had hoped Pope Francis would successfully mediate the political crisis that has caught up López and dozens of other opposition politicians and activists who are behind bars on the orders of Venezuelan President Nicolás Maduro.
"[Pope Francis] may be the way to solve the conflict in Venezuela," she told the Associated Press over the weekend.
But Maduro canceled his trip to Rome on Saturday, due to a sudden flu and ear infection.
"The political prisoners' requests are not only profoundly democratic, but they are also a guarantee of peace. And they will not back down. It is a violation of the human rights of all Venezuelans, not just of Leopoldo," she told FNL
On Tuesday, former Spanish president Felipe González cut short a visit to Venezuela in which he had sought to meet with some of the dozens of members of the opposition currently jailed in the Caracas prison of Ramo Verde and others across the country.
During González's two-day stay, the government organized rallies against him and his presence in the country and created the Twitter hashtag #FueraFelipedeAqui ("Felipe, Get Out of Here").
Mitzy Capriles, wife of Caracas mayor Antonio Ledezma, currently under house arrest, said González is willing to return as long as he is allowed to meet personally with the Ramo Verde prisoners.
By the opposition's count, there are 76 political prisoners in Venezuela. Most of them have been charged with conspiracy and incitement to violence.
Tintori said López and the other opposition leaders currently on hunger strike were waiting for "a gesture by the government" to end their protest. She said such gesture could include announcing a definitive date for this year's parliamentary elections.
"They must free the political prisoners, provide a date for the parliamentary vote and insure international observers for said elections. [The opposition members] will not lift the strike until we have a firm date for the elections," Tintori said.
As of June 2, according to reports, López had lost more than 11 pounds.

On Sunday, the government seemed to be giving in to the opposition's demand on setting a date for the elections, when People's Ombudsman Tarek William Saab said Sunday in a TV interview that the vote will be held in late November or early December.
This is as close as the Maduro government has come to providing an actual date for the election, which is largely seen as a referendum on Maduro's regime.