Why Trump's promise to move US Embassy to Jerusalem is so controversial
The new U.S. embassy in Israel is set to officially open in Jerusalem on Monday as President Trump has formally recognized the holy city as the country's capital.
The opening comes after a day of celebratory festivities in Israel juxtaposed with mass protests along the border of Israel that left at least 52 Palestinians dead and more than 1,000 injured Monday. It was the bloodiest day of weeks of demonstrations that has cast a cloud over the embassy opening.
The Trump administration's decision to recognize Jerusalem as the capital was heralded by many pro-Israel activists but decried by Palestinians and America's Arab allies.
Ahead of the opening, Trump tweeted it's "a great day for Israel."
Read on to find out why the decision is so contentious — and why it wasn't accomplished before.
Finding the capital
The international community – and until 2017, the U.S. – largely does not recognize Jerusalem as the capital of Israel as it is claimed by both Palestinians and Israelis. Like other countries, the U.S. kept its embassy in Tel Aviv, approximately an hour away.
The U.S. moving its embassy could cause "significant harm to the U.S. credibility as a mediator" for peace talks between Israelis and Palestinians, said Dylan Williams, vice president of government affairs for J Street, a left-leaning pro-Israel advocacy organization.
Williams added that the move could "undermine confidence" from Palestinians and Arab countries that the U.S. would remain an impartial negotiator in efforts to create peace in the Middle East.
"Even seemingly minor changes of Jerusalem's status quo — either in fact or in law — have historically had the impact of sparking violence," Williams said.
Support for Jerusalem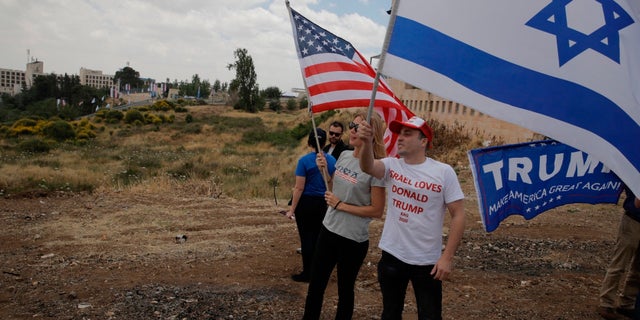 Millions of evangelical eyes were on Trump, waiting to see if he would keep his campaign promise to move the embassy, longtime Pastor John Hagee told Fox News ahead of the president's official announcement.
"I can assure you that 60 million evangelicals are watching this promise closely because if President Trump moves the embassy into Jerusalem, he will historically step into immortality," Hagee said. "He will be remembered for thousands of years for his act of courage to treat Israel like we already treat other nations."
"If he does not, he will be remembered as just another president who made a promise he failed to keep which would generate massive disappointment in that strong evangelical base that went to vote for him against Hillary Clinton," he added.
"Trump will be remembered for thousands of years for his act of courage to treat Israel like we already treat other nations."
Hagee is the founder and senior pastor of Cornerstone Church, a megachurch in San Antonio, Texas. He founded the nonprofit Christians United for Israel in 2006, as well.
A March 2016 Gallup poll found that the majority of Americans didn't express an opinion when asked if the U.S. embassy should move from Tel Aviv to Jerusalem. But of those who did have an opinion, Americans were split with 24 percent supporting a move and 20 percent disagreeing with relocation.
Congressional authority
Trump isn't the only president to declare his intentions to move the U.S. embassy; both former Presidents Bill Clinton and George W. Bush also pledged to move the embassy — only to abandon the idea once in the White House.
Congress approved in 1995 the funding and relocation of the embassy to Jerusalem by 1999. But the law included a stipulation, allowing for presidents to sign continuous waivers to stall the relocation. Every president since had used the waiver in an effort to avoid conflict with the peace negotiations.
The Associated Press contributed to this report.