Who is Scott Pruitt? 5 things to know about the EPA administrator
Since February 2017, Scott Pruitt served as the 14th administrator of the U.S. Environmental Protection Agency and a member of President Trump's Cabinet. But after months of controversies, Trump announced in July that Pruitt had resigned.
"Within the Agency Scott has done an outstanding job, and I will always be thankful to him for this," Trump said in a July 5 tweet.
Pruitt, 50, found himself in controversy after it was discovered that he paid $50 a night to stay in a Washington, D.C., condominium linked to a lobbyist whose firm represents fossil fuel companies. He was also criticized for the substantial pay raises two of his closest aides received, despite the White House refusing to sign off on it.
In an exclusive interview with Fox News, Pruitt defended the apartment rental as "an Airbnb situation." He also said he had only just found out about the pay raises and has "corrected the action."
Pruitt has also been criticized for his high travel expenses.
As head of the government agency tasked with protecting the environment, Pruitt worked with public servants to administer environmental laws, according to his EPA biography.
Trump said EPA deputy Andrew Wheeler will take over as acting secretary.
Read on for a look at Pruitt's background.
While Oklahoma's attorney general, he sued the EPA multiple times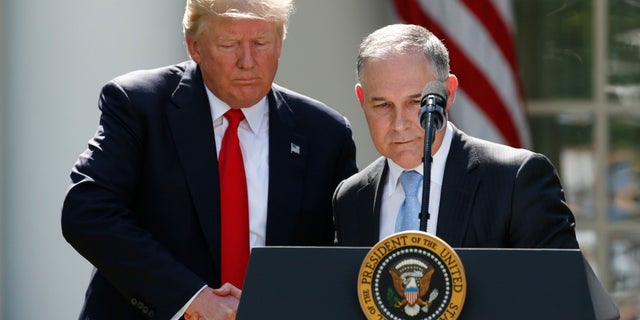 Pruitt got his start in politics as a state senator, elected in 1998.
He was elected attorney general of Oklahoma in 2010, beating Democrat Jim Priest.
As attorney general, he sued the EPA 14 times, according to The New York Times, often challenging certain regulations. And 13 of those lawsuits included co-parties that had given money to Pruitt or his campaigns, according to the newspaper.
He owned a minor league baseball team
Along with businessman Bob Funk, Pruitt bought a controlling interest in the Oklahoma City RedHawks, a minor league baseball team, in 2003 for $6.8 million, the Tulsa World newspaper reported. Pruitt became a managing partner of the team, now named the Oklahoma City Dodgers, until it was sold in 2010.
Pruitt attended the University of Kentucky on a baseball scholarship. He eventually transferred to Georgetown College, earning degrees in communications and political science.
But Pruitt had dreams of playing Major League Baseball, especially for the Cincinnati Reds, according to Tulsa World.
Pruitt championed a water rights settlement in Oklahoma
While attorney general, Pruitt helped champion a historic water rights agreement between Oklahoma, Oklahoma City and the Choctaw and Chickasaw nations.
The deal finalized ownership and regulatory authority over an area that spanned 22 counties, according to a news release at the time. It came after the tribes had sued to protect their right to the water in the area, The Oklahoman reported.
"Water is a shared resource, so finding a way to work together was vitally important," Pruitt said.
The agreement needed congressional approval and was signed by then-President Barack Obama in December 2016.
He's been criticized over his connections to the fossil fuel industry
As soon as Trump nominated Pruitt to lead the EPA, concerns from environmentalists mounted.
"If environmentalists were to sketch out the government official of their nightmares, it would likely look much like Scott Pruitt," The Guardian reported in 2016.
The publication pointed out that Pruitt had been given contributions from the fossil fuel industry that totaled more than $300,000. It also pointed to his efforts to ease regulations pertaining to air pollution and to strip protections for some species.
Emails released in 2017 also showed a "close and friendly" relationship between Pruitt and fossil fuel firms, The Washington Post reported.
He was a Southern Baptist Theological Seminary trustee
Prior to becoming the head of the EPA, Pruitt held leadership positions with religious groups. He was a deacon at First Baptist Church in Broken Arrow, Oklahoma as well as a trustee at the Southern Baptist Theological Seminary in Kentucky until 2017.
Nearly 50 evangelical leaders – saying they are "Christians who are committed to a proper stewardship of all creation" – signed a letter in December 2016 to signal support for Trump's pick of Pruitt.
The Associated Press contributed to this report.