Who is Jim Jordan? 3 things to know about the House speaker hopeful
Rep. Jim Jordan, R-Ohio, has officially thrown his hat into the ring to become speaker of the House after Paul Ryan leaves Congress.
Jordan, who has been embroiled in an alleged sexual abuse scandal stemming from his time as an assistant wrestling coach at Ohio State 30 years ago, is a member of the powerful House Freedom Caucus and is a staunch defender of President Trump. In fact, he referenced the president in announcing his intention to run for speaker.
"President Trump has taken bold action on behalf of the American people," Jordan said. "Congress has not held up its end of the deal, but we can change that. It's time to do what we said."
Jordan was one of 11 House Republicans who recently filed articles of impeachment against Deputy Attorney General Rod Rosenstein, as part of their rampant criticism of the way the Russia investigation is being handled.
Read on for a look at who Jordan is and his influence in Congress.
Jordan has been a congressman for more than a decade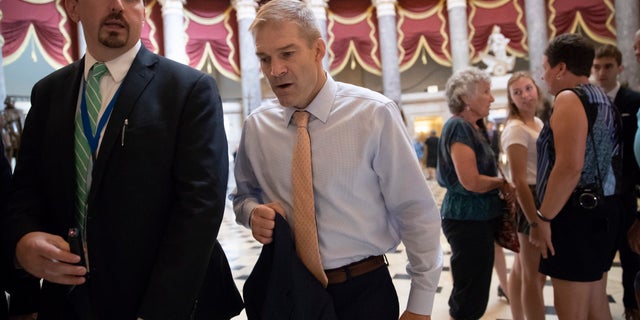 Jordan, 54, has represented Ohio in Congress since 2007.
He is a member of the House Judiciary Committee and chairs the subcommittee on health care, benefits and administrative rules, according to his House biography.
His voting record has already earned him praise among conservative groups – some of which have already backed him for speaker.
"Voters rallied to Donald Trump in 2016 because he promised to shake up Washington. The president is delivering, but Congress remains crippled by the status quo," Club for Growth President David McIntosh said in a statement, adding Jordan is someone who can "shake up Congress."
Tea Party Patriots Citizens Fund Chairman Jenny Beth Martin also said she backs Jordan. She said he will champion issues important to Republicans – including building a wall along the southern border – and will also "improve the process of drafting new legislation" by making it more open.
Heritage Action for America gives Jordan a 98 percent in terms of "advancing conservative policy reforms."
He's a wrestling champion
Jordan earned his bachelor's degree from the University of Wisconsin before obtaining a master's in education from Ohio State and a law degree from Capital University in Ohio.
While he was at Wisconsin, Jordan was a two-time NCAA wrestling champion, according to his House biography. Prior to that, he won the state championship four times when he was a high schooler in Ohio.
He also worked as an assistant wrestling coach at Ohio State from 1986 to 1994. Decades-old allegations have followed Jordan, who has faced scrutiny about how much he knew about the allegations of sexual abuse against another coach, who is now dead, when he was employed there.
In early July, Jordan told Fox News the allegations are "bogus."
"I never saw, never heard of, never told of any kind of abuse," he said. "We would've dealt with it if we knew of anything that happened."

Jordan is a founder of the Freedom Caucus
A staunch conservative, Jordan was one of the founding members of the powerful House Freedom Caucus.
Jordan was the group's first chairman, and he described it as having an "agenda of limited constitutional government."
At the time, he listed repealing and replacing ObamaCare and opposing then-President Barack Obama's immigration plan as the caucus' priorities. He also said then he had "no interest" in becoming speaker.
Jordan has also chaired the Republican Study Committee several years ago.